Gluten Free Mini Fruit Pizzas is a great dessert no matter what occasion you are celebrating. Customize these Mini Fruit Pizzas for any occasion by changing the fruit that you top them with.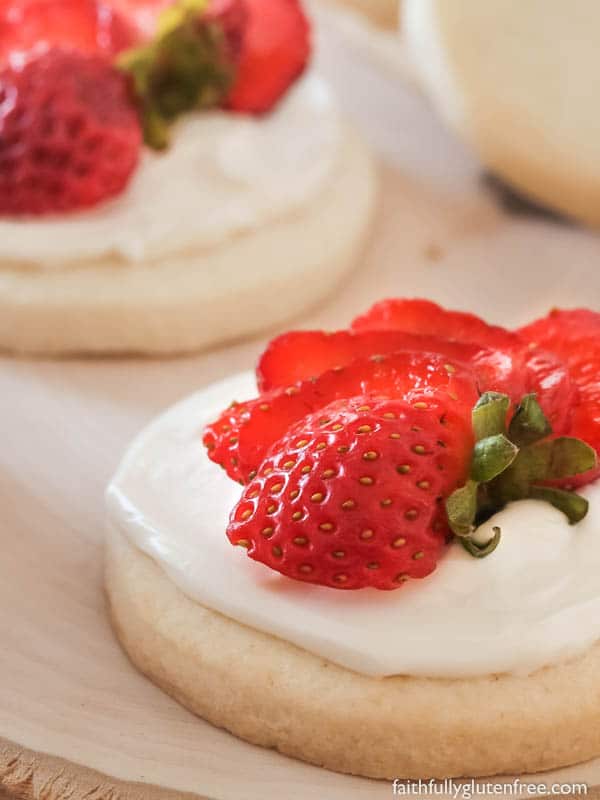 Summer break is finally here. The kid's had their last day of school earlier this week, and we're in full summer mode. Lazier days, quicker meals, and emptier schedules. It's great – time for some R&R.
This coming weekend we're celebrating Canada Day on July 1st, and our friends to the south are celebrating Independence Day on July 4th. It's a great excuse to have cook-outs and eat as much food in your country's colour as possible. Sounds perfect!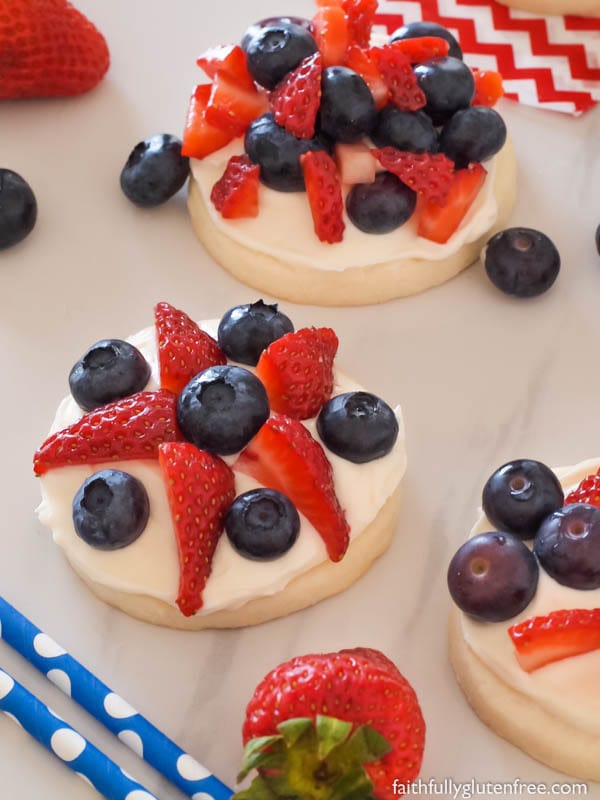 Whenever we have a summer get together, it's always a treat to have Fruit Pizza for dessert. After I was diagnosed with celaic disease (over 8 years ago), it was a few years before I figured out how to make a great gluten free Fruit Pizza. After I developed my Rolled Sugar Cookie recipe though, I knew it could be re-purposed for the sugar cookie crust.
I decided to make these gluten free Mini Fruit Pizzas because desserts that are mini are just really, really cute. Plus, they would be great for your summertime cook-outs and gatherings. Since it's a cookie, there is no need for any extra utensils either. Bonus!
The crisp, gluten free sugar cookie base, topped with a smooth cream cheese frosting, and your favourite seasonal fruit – which is so good this time of year – will get gobbled up by your guests in no time. You could even frost the cookies, and let your guests top them with the fruit themselves.
Whatever your plans are for the weekend, I hope you have some great food with your friends and family. Please, stay safe out there. If you indulge in any alcohol beverages, please don't drive. And please, always wear your seat belts – they do save lives.

Gluten Free Mini Fruit Pizzas
Prep Time:
1 hour
20 minutes
Total Time:
1 hour
32 minutes
No matter what you're celebrating, these Gluten Free Mini Fruit Pizzas, with a cream cheese frosting, will be a hit! Top with any of your favourite fruit - strawberries, blueberries, raspberries, kiwi, mandarin oranges, to list a few.
Ingredients
Sugar Cookies:
1/2 cup (115 g) unsalted butter, softened
1/2 cup (100 g) granulated sugar
1 large egg
1 teaspoon (5 ml) pure vanilla extract
1/4 teaspoon (1.25 ml) almond extract (omit for nut free)
3/4 cup (120 g) white rice flour
1/3 cup (57 g) potato starch
1/3 cup (42 g) tapioca starch
3/4 teaspoon (3 g) xanthan gum
1/4 teaspoon (1 g) baking powder
1/4 teaspoon (1.5 g) salt
Cream Cheese Frosting:
3/4 cup (6 oz, 170 g) cream cheese, softened
1/4 cup (57 g) unsalted butter, softened
1 cup (125 g) Confectioners' (icing) sugar
1 teaspoon (5 ml) pure vanilla extract
Fruit:
Chose fruit that will not brown once they have been cut. Strawberries, blueberries, raspberries, blackberries, kiwi, mandarin oranges, and peaches are some suggested fruits. They will have to be cut into fairly small pieces, since we are making mini fruit pizzas.
Instructions
Sugar Cookies:
In the bowl of a stand mixer, beat the 1/2 cup butter and granulated sugar until it is light and fluffy, about 2 minutes. Scrape down the bowl, and beat for one more minute.
Add the egg and extracts, and beat until they are fully incorporated, scraping down the bowl again if necessary.
In a separate mixing bowl, whisk together the rice flour, potato starch, tapioca starch, xanthan gum, baking powder, and salt. With the mixer running on low, slowly add the dry ingredients. Mix until the dry ingredients are fully incorporated.
Scrape the dough out onto a sheet of plastic wrap, and wrap tightly. Refrigerate for at least 1 hour before rolling and cutting the cookies. You can refrigerate the dough longer, but you will need to let it warm up a but longer on the counter before rolling it. If the dough is too cold, it will break apart when rolling.
Preheat the oven to 350 degrees F (177 degrees C), and line your baking pans with parchment paper.
With the dough between two sheets of plastic wrap, roll the dough to 1/4-inch (6 mm) thickness. Use a 2 1/2-inch (6.5 cm) round cutter to cut the dough into cookies. Place the cookies on the prepared baking sheet, leaving 1-inch (2.5 cm) between cookies.
Bake in the preheated oven for 9-12 minutes, or until the underside of the cookie is just a slight light brown colour. Allow the cookies to cool on the baking pan for 5 minutes before moving to a wire cooling rack to cool completely.
Cream Cheese Frosting:
Beat the cream cheese, butter, Confectioners' sugar, and vanilla until smooth and creamy. Use an offset spatula to spread the frosting on each cookie before adding the fruit. The cookies can be frosted a few hours ahead of time, but I would not suggest the day before. It is best to assemble them just a bit before serving. Refrigerate any frosting you are not using, or any cookies that have been frosted.
Fruit:
Top with your favourite fruit. You could even present the frosted cookies and have bowls of toppings for your guests to make their own customized mini fruit pizzas.
Disclosure: This post may contain affiliate links. If you make a purchase using these links – your cost remains the same, but I earn a small percentage to help pay for more groceries so I can make more recipes. Thank you!