Looking for an impressive summertime dessert that can be made in about 15 minutes? These individual gluten free Kiwi, Lemon and Honey No Bake Cheesecakes are just that.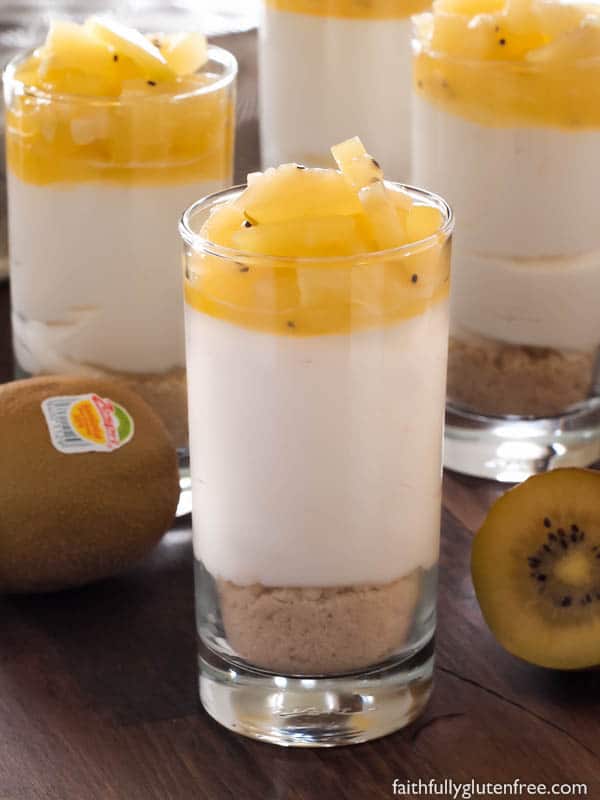 During the summer months, no-bake desserts are the way to go. There is no need to preheat the oven or heat up the house just so you can have a nice dessert. These Kiwi, Lemon and Honey No Bake Cheesecakes can be put together in about 15 or 20 minutes (depending how focused you are in the kitchen), and you probably have most of the ingredients in your kitchen already.
I am thrilled to partner with Zespri Kiwifruit to create a recipe using their SunGold Kiwifruit. Unlike the kiwi you may be used to seeing, the SunGold variety is actually a beautiful yellow colour, and tastes like a cross between mango and strawberry. Although it is a different colour, has a smoother skin, and tastes sweeter than their green kiwifruit, it remains a great source of vitamin C, E, potassium, and fibre.
My kids love kiwifruit. When I first sent them kiwi in their lunch kits a few years ago, it was a bit of a surprise to me that they both really enjoy eating it. I love sending it because all I do is cut it in half, put it in a container and send along a spoon. They just scoop the kiwi straight from the peel at lunch time. The folks at Zespri sent us a "spife", which is a spoon-knife combo. I know that will get a lot of use in next year's lunch kits, because my kids will be able to cut and scoop the kiwifruit on their own with it.
I chose to make these Kiwi, Lemon and Honey No Bake Cheesecakes as individual desserts. Unlike a full cake, they don't require any extra time to chill and set up. That shouldn't stop you from making them in advance though, because they can easily be made the day before without any issues. Simply cover and refrigerate the individual cheesecakes before adding the SunGold Kiwi topping – you can do that immediately before serving.
The base of these cheesecakes is crushed up gluten free animal crackers. Unlike other cheesecakes, I didn't add any extra sugar or butter to the crust. The crust of these cheesecakes doesn't need to hold its shape like a regular cheesecake would, and I found the cookies to be sweet enough on their own. Gluten free sugar cookies or pretzels can be used for the crust as well, either would go great with the sweet, tropical flavours of the cheesecake.

Gluten Free Kiwi, Lemon and Honey No Bake Cheesecakes
Rich, creamy individual Lemon & Honey cheesecakes topped with a sweet, SunGold Kiwifruit topping.
Ingredients
1 cup (250 ml) gluten free animal cracker crumbs (optional, gluten free graham cracker crumbs or crushed gluten free pretzels)
8 oz (250 g) cream cheese, softened
1/4 cup (50 g) granulated sugar
1/4 cup (60 ml) plain yogurt
3 Tablespoons (45 ml) liquid honey
Zest and Juice of 1/2 a lemon
1 cup (250 ml) heavy whipping cream
Topping:
4 Zespri SunGold Kiwifruit, peeled, sliced, and quartered
1 Tablespoon (15 ml) liquid honey
1 teaspoon (5 ml) lemon juice
Instructions
Find clear glass containers to make the cheesecakes in. My glasses were about 5-6 oz each. 4 oz mini canning jars would also work well.
Spoon about 2 tablespoons (30 ml) of the cookie crumbs into the bottom of each glass. Give the glass a quick shake to help level the crumbs. Depending on the size of your glassware, you could get 6-8 servings.
Using an electric beater, beat together the cream cheese, sugar, yogurt, 3 Tablespoons honey, and zest and juice from 1/2 a lemon. Beat it until no lumps remain, and the mixture is smooth.
In a separate bowl, beat the heavy whipping cream until stiff peaks form.
Stir about half of the whipped cream into the cream cheese mixture, just to lighten it up. Carefully fold the remaining whipped cream into the cream cheese mixture, so that you still have a light dessert.
Spoon the cream cheese filling over the cookie crumbs. To make this easier, I scraped the cream cheese mixture into a large resealable bag, cut off one corner, and piped it into the glassware. This was much tidier than trying to spoon it into narrow glassware.
Topping:
Combine the cut up SunGold Kiwifruit, 1 tablespoon honey, and 1 teaspoon lemon juice. Spoon it over the cream cheese filling.
Refrigerate until ready to serve.
Disclosure: I have been compensated by Zespri Kiwifruit for creating this recipe, however, the opinions expressed are completely my own. Be sure to check your local grocery stores from May to October to find Zespri SunGold Kiwifruit.