These Gluten Free Raisin Bran Muffins are legit – just like you would have eaten before eating gluten free. Whip up a batch to enjoy with your breakfast, or your morning coffee break.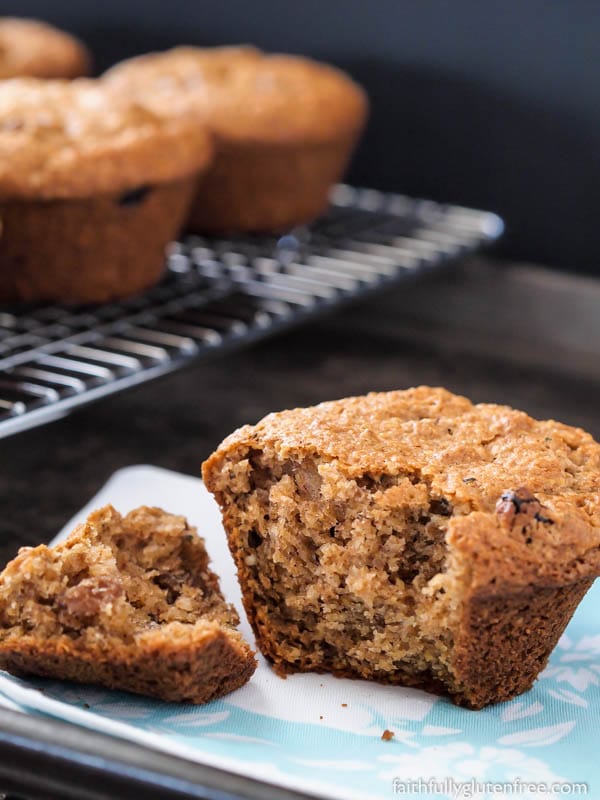 In my pre-Celiac days, I loved to bake bran muffins. They were just simple, standard healthy bran muffins with raisins. Even though they were so simple, they were not a boring muffin, they could hold their own during brunch or a snack. Topped with a little butter, and we were set.
I had my simple tried and true recipe that I used every time and it never failed me. Not once.
My husband would take them to work. My daughter gladly took them in her lunch kit to school, and my little man, who seems to think he always needs to eat, would have them as a mid-morning snack. Since going gluten-free, I have occasionally baked those muffins for my family to enjoy, but boy, to see those great muffins sitting there, and not be able to have any, was a sad thing.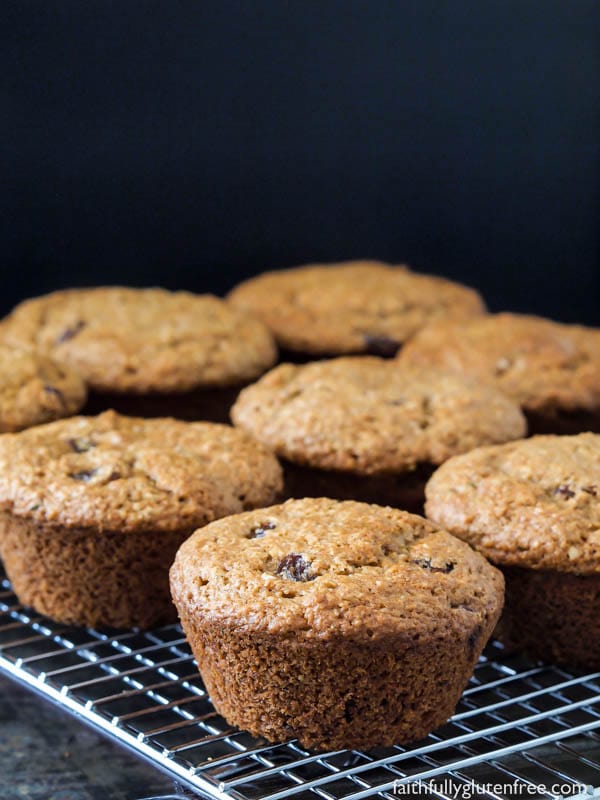 So, what do I do? Anything that any muffin-depraved person would do. I take that recipe and convert it to gluten free.
Those muffins converted beautifully to gluten free Raisin Bran Muffins. The texture is bang on, and although the taste is slightly different (obviously, you can't use wheat bran when you can't eat wheat), the substitutions worked perfectly!
Feel free to substitute the raisins with whatever kind of fruit suits your fancy. Chopped apples and a teaspoon of cinnamon would be a great twist on these. However, I like them just as they are – which is nearly just as they were.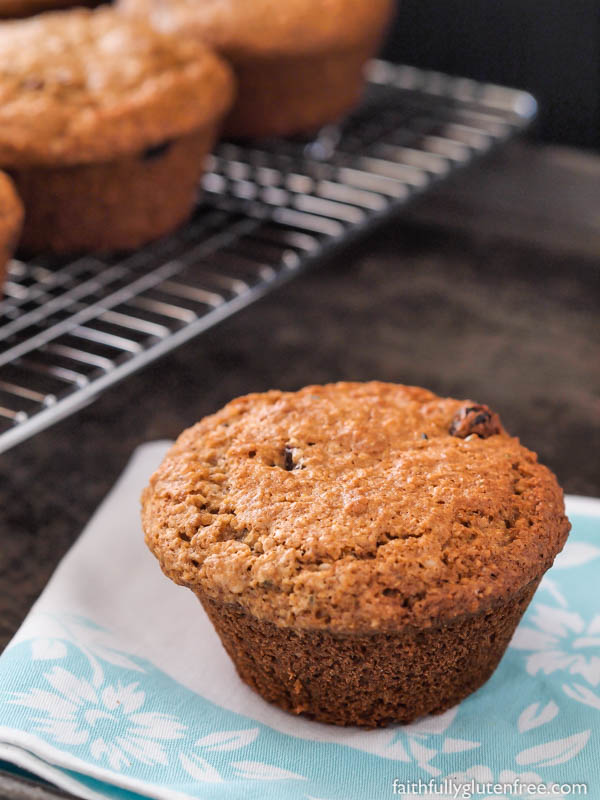 If you like these gluten free Raisin Bran Muffins, I think you'll also love these muffins: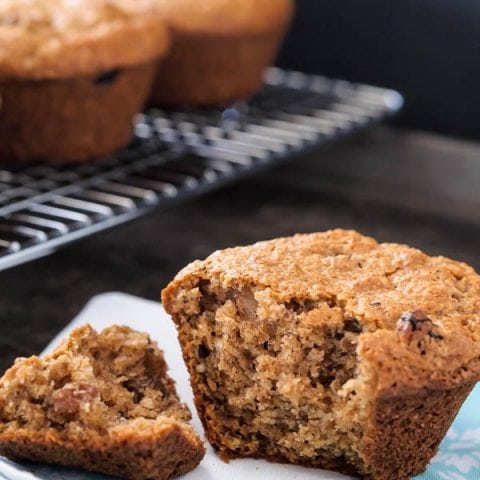 Gluten Free Raisin Bran Muffins
Enjoy your bran muffins again, only this time without the gluten. These gluten-free Raisin Bran Muffins are perfect to pack in lunches or for an afternoon snack. Add nuts, or change the fruit to suit your tastes.
Ingredients
1/2 cup ground flax seed
1/2 cup rice or gluten-free oat bran (substitute with more flax seed if you don't have the rice bran)
1 cup buttermilk
1/3 cup oil
1 large egg
2/3 cup brown sugar
1/2 teaspoon vanilla extract
1/3 cup gluten free oat, millet, or sorghum flour
1/3 cup brown rice flour
1/3 cup tapioca starch
1 teaspoon xanthan gum
1 teaspoon baking soda
1 teaspoon baking powder
1/2 teaspoon ground cinnamon (optional)
1/2 teaspoon salt
2 tablespoons hemp seeds (optional, I added them, more nutrition)
1/2 cup re-hydrated raisins (I microwave mine for 30 seconds with a little bit of water, let sit, then drain)
Instructions
Preheat oven to 375 degrees F. Grease or line muffin cups with paper liners.
Mix together the flax seed, rice bran and buttermilk. Let sit for 10 minutes (while you get everything else ready).
In a large mixing bowl, combine the gluten free flour(s), xanthan gum, baking soda, baking powder, cinnamon, salt, and hemp seeds (if using). Set aside.
In a medium bowl, beat together the oil, egg, sugar and vanilla. Add the buttermilk/flax seed mixture & stir well.
Stir buttermilk mixture into the dry ingredients, just until blended. Fold in the raisins and spoon batter into prepared pans.
Bake for 15-20 minutes, or until a toothpick inserted into the center of a muffin comes out clean.
Wait 5 minutes and then remove the muffins from baking pan to cooling rack. Allow to cool completely before storing in an air tight container.