Summer just isn't complete without indulging in gluten free rollkuchen and watermelon at least once.
As many of you know, I grew up in a Mennonite household. We're not talking Amish-like Mennonites – we had cars, tv's, and all that stuff – but a Mennonite faith. Along with the faith though, comes a lot of great Mennonite food that my Grandma & Mom both made regularly while I was growing up. I've re-created a lot of those favourites to be gluten free, including perogies and keilke, but no Mennonite's summer is complete without watermelon and rollkuchen.
For those not in-the-know, or maybe calling these something else (I'm sure there are other names for it, if you know any, please let me know), rollkuchen are a flat, rolled, deep fried bread that is great served with watermelon. We usually eat it with the watermelon as a meal, then if there are any leftovers, we eat the leftovers with strawberry jam, Rogers syrup, or honey – all are acceptable.
I first started playing with gluten free rollkuchen years ago, and I've tweaked the recipe over the years. I made some last week, and realized that I've never shared the recipe with you guys. Plus, now that it's posted, my Mom won't have to email me for the recipe every year when watermelon season starts.
So, whether your secret to picking the best watermelon is tapping it, thumping it, smelling it, lifting it – be sure to make up a batch of these gluten free rollkuchen once you've selected your perfect melon.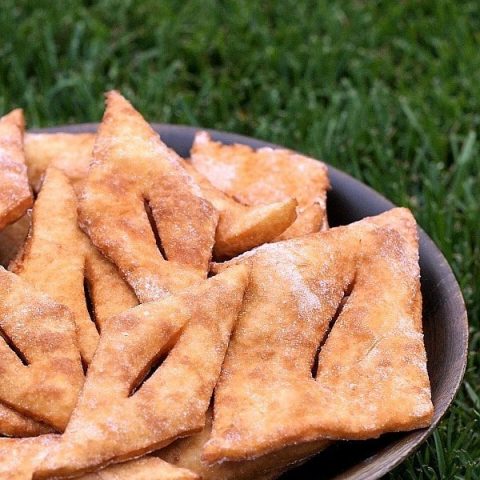 Gluten Free Rollkuchen
Summer just isn't complete without indulging in gluten free rollkuchen and watermelon at least once.
Ingredients
1/2 cup sour cream
1/2 cup plus 2 Tbsp milk
2 large eggs, beaten
1 cup brown rice flour (plus extra for rolling)
1 cup millet flour
1 cup tapioca starch
1 Tablespoon baking powder
2 teaspoons xanthan gum
3/4 teaspoon salt
1/2 teaspoon baking soda
Instructions
In a mixing bowl, whisk the wet ingredients together.
In another bowl, whisk together the dry ingredients.
Add the wet ingredients to the dry ingredients, stir until combined.
I like to wipe my counter with a wet cloth, then place plastic wrap down on the counter (if the counter is wet, the plastic wrap will stick better). Spoon half of the dough onto the plastic wrap, lightly sprinkled with extra brown rice flour. Flatten and turn the dough until it is still soft, but not sticky. Roll to about 1/4-inch thick. Cut into rectangles, about 2x4-inches, with a slit in the middle (this allows it to fry more evenly).
In an electric frying pan, preheat about 2-inches of your favourite high temperature frying oil (I use canola or peanut) to 375 degrees F. Be sure to use a thermometer so that your oil doesn't become too hot.
Carefully place 3-4 rollkuchen in the hot oil, letting it cook until brown, then flipping to cook the other side until brown. Carefully remove from the oil using a metal slotted spoon, and place on a baking sheet lined with a few layers of paper towel. This will help absorb the oil. Repeat until you have rolled out, cut and fried all the rollkuchen.
VERY IMPORTANT: When placing the rollkuchen into the hot oil, be sure to lay it in the oil, going away from yourself. So start placing it in the oil close to you, and carefully place it going away from you. That way, in case there is a splash, the hot oil will not be coming towards you. Always have a tight fitting lid or baking soda nearby when deep frying as well, and NEVER lift a pot with hot oil in it. Allow it to cool completely before moving it.
Notes
Like all gluten free breads - these are best eaten fresh. If you do have leftovers, you must not be Mennonite. 😉 You can store them in a sealed plastic container, and reheat in the microwave for 15 seconds before eating.
If you happen to know any other name for rollkuchen, or have tips on buying the perfect watermelon, please leave a comment and let me know!