These simple gluten free Christmas Pinwheel Cookies will be a hit with your family & friends this holiday season. The fun, bright colors will catch everyone's attention.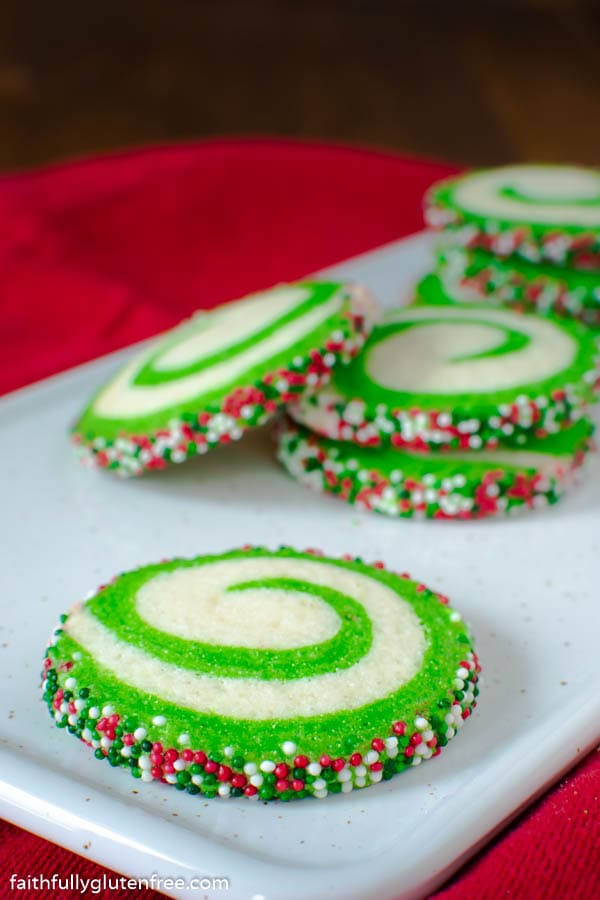 These gluten free swirl cookies will get the attention of both the young and the young at heart this Christmas. The bright colors exclaim "Christmas is here!"
And although they look like a cookie that takes a lot of time to make, they really take very little effort, which is even better.
How to make gluten free Christmas Pinwheel Cookies:
The dough for these cookies is a simple sugar cookie dough. Nothing too difficult to mix up there. It's what you do with the dough that gives this cookie it's WOW!
Divide the dough in half, and add color to one of those halves. I find gel colors work best, because they add a lot of color with very little liquid. You can add green or red for Christmas. But if you want to make these for Halloween or fall, orange would be beautiful too. Pastel pink and green would be perfect for Easter.
Additionally, you can add an extract to that colored dough as well. Peppermint, mint, cherry or strawberry would all be great in these Pinwheel Cookies. Feel free to get creative!
Between sheets of waxed paper or plastic wrap, roll each of the the two pieces of dough out to a rectangle that is about 11×9-inches. Remove the top layer of waxed paper from each color of dough, and flip one color on top of the other.
Now roll that dough up tight to form a log. Use the waxed paper to help you form the dough into a nice circle.
Before refrigerating the dough, roll the outside of the cookie log in Christmas colored sprinkles. You could also use colored sugar, or any other colored sprinkles that you like.
The easiest way to roll the pinwheel cookie dough in sprinkles is to pour the sprinkles into a rimmed baking sheet. Spread the sprinkles into a thin layer, and then roll the cookie dough log in the sprinkles. This makes for much easier clean up too.
After the swirl cookies are covered in sprinkles, wrap the cookies up tightly in plastic wrap and refrigerate. You can refrigerate the dough for hours, or even days. Just be sure that it is tightly wrapped up so that the dough doesn't dry out.
You can also place the wrapped cookie dough logs into heavy zipper seal bags and freeze at this point. Defrost the dough in the fridge overnight, and you will be ready to bake gluten free Christmas Pinwheel Cookies at any time.
More gluten free Christmas Cookies you have to try:
Gluten Free Christmas Pinwheel Cookies recipe:
Gluten Free Christmas Pinwheel Cookies
Total Time:
1 hour
43 minutes
Gluten Free Swirl Cookies are so much fun! You can change the colour of the dough, and the colour of the sprinkles to suit any occasion. These crisp slice and bake cookies will become a favourite of everyone.
Ingredients
1 cup white rice flour
2/3 cup potato starch (not flour)
1/3 cup tapioca starch
1/4 cup sweet rice flour
1 teaspoon xanthan gum
1/2 teaspoon baking powder
1/4 teaspoon salt
2/3 cup confectioners' sugar (icing sugar)
1/4 cup granulated sugar
1 cup (2 sticks) softened unsalted butter, cut into chunks
1 large egg, slightly beaten
1 1/2 teaspoon gluten-free vanilla extract
1/2 teaspoon food colouring of your choice (or enough gel colouring to get the desired colour. I used Wilton Kelly Green in these cookies)
1/2 teaspoon extract, optional (mint, cherry or any other desired gluten-free extract)
1 tablespoon white rice flour
2/3 cup sprinkles or course sugar
Instructions
In the bowl of a stand mixer, whisk together the flours, starches, xanthan gum, baking powder, salt, confectioners' sugar, and granulated sugar.
With the paddle attachment, slowly beat in the butter until the dough starts to come together. Add the beaten egg and vanilla and mix until the dough is evenly blended.
Use a scale and weighed all the dough, then placed half of it back into the bowl (or eye ball it, but try to be accurate). To the dough in the bowl, add strawberry extract (or other extract, mint would be wonderful at Christmas as well) and colouring. Add 1 tablespoon rice flour and mix until well blended.
Roll each colour of dough out between sheets of waxed paper, until the dough is a rectangle, measuring approximately 11" x 9", and about 1/4" thick. Remove the top sheet of waxed paper from each piece of dough.
Carefully lift one rectangle, and using the waxed paper to help you, turn it over on top of the other rectangle of dough. Gently rub on the top of the waxed paper, to help the two layers stick together. Use a sharp knife to cut the edges of the dough to make a rectangle, this will make it easier to roll the dough into a log.
If the dough feels too soft, refrigerate it on a baking sheet for 30 minutes. Remove from fridge and allow to become pliable again before attempting to roll up. Carefully roll the dough up along the long side, similar to a cinnamon roll. Try to keep the rolls as tight as possible, or you will have a hole in the middle of your cookies. Continue rolling & running your hands over the dough to ensure it is not cracking. Use the waxed paper to help you roll the dough into a circle.
Place the sprinkles in a baking sheet, and roll the log of cookie dough in the sprinkles, until the entire outside of the dough is coated in the sprinkles.
Tightly wrap cookie dough in plastic wrap and refrigerate for at least one hour.
Preheat oven to 350 degrees F and line your baking sheets with parchment paper.
Remove your cookie dough from the fridge, unwrap, and using a sharp knife, cut into 1/4" slices. Place slices on prepared baking sheet, leaving 2" between cookies. Re-wrap and refrigerate dough until you are ready to prepare another pan for baking.
Bake in preheated oven for 13-15 minutes, or until the edges are just slightly golden brown. Allow to cool on cookie sheets for a few minutes before transferring to cooling racks. Allow cookies to cool completely before storing in air-tight containers.
Notes
The dough, once it has been rolled into a log, can be wrapped tightly in plastic wrap and refrigerated for 3 days.
You can also place it in a zipper seal bag and freeze for up to a month. If you freeze it, let the dough defrost overnight in the fridge before slicing.
Recommended Products
Disclosure: We are a participant in the Amazon Services LLC Associates Program, an affiliate advertising program designed to provide a means for us to earn fees by linking to Amazon.com and affiliated sites.
Don't forget to save these Gluten Free Christmas Pinwheel Cookies to your gluten free Pinterest board!
This recipe was originally shared December 2012. The images & text were updated December 2019.