Minneapolis, Minnesota is about 8 hours, 3 bathroom breaks, and one border crossing away from where I live. Every time we go we discover something new about the Twin Cities. After three years of visiting we've developed some special destinations. There's Nickelodeon Universe for the kids, Cafesjian's Carousel and Barnes and Noble for my husband. And this year I discovered one for me.
Minneapolis is one of the top 10 destination cities for people who have to eat gluten-free. It's also the home of the Nordic Ware factory. This was something I had never realized until after attending the Food Bloggers of Canada Conference. Nordic Ware was a sponsor of the conference, and I received some complimentary pieces . Funny thing is, I've always had Nordic Ware products in my kitchen but never made the connection with Minneapolis. Once I realized this though, we added the Nordic Ware Factory Outlet Store to our vacation plans.
Having preplanned the drive from the hotel to the factory outlet on Google Maps, we were set! Or at least we thought we were. It ends up that Google Maps doesn't really care whether or not you are familiar with the roads you are driving on, or that the traffic is heavy at that time of day, or that there is a car broken down in a lane way up ahead, causing more delays and backed up lines. But, by carefully following the directions, like a pirate looking for the X on a treasure map, we knew we'd found our destination when we spotted a large smoke stack with the Nordic Ware logo painted on it. We were there!
To say that I enjoy browsing kitchen ware stores is an understatement – I absolutely love it! Much like my kids in a toy store, I have the same awe and feel the need to touch and pick up everything in a kitchen wares store. The factory outlet store is beautiful. Besides there being the full line of Nordic Ware items, they also have a kitchen where they teach a variety of cooking classes. Being the frugal gal that I am though, I was amazed with the 3 large carts of "seconds" at the end of the store where they sell irregular and discontinued items. This company obviously has very high standards, because a lot of the irregular items, which were 40-50% cheaper, really had nothing wrong with them. Maybe a small mark on the outside of the pan, or a small imperfection on the top. I checked the items I purchased and determined that none of the imperfections would hinder my baking at all. If you're ever in Minneapolis, be sure to try to squeeze a visit to the Nordic Ware factory outlet in your schedule, you never know what goodies you might find. For those that never travel through the Twin Cities, you can find Nordic Ware in a number of retail outlets, including Amazon, William-Sonoma, Bed Bath & Beyond, and many, many more. The hardest decision you'll make is what to buy. I've been playing with my newly purchased Nordic Ware products for the last month, and love everything I've bought.
After much browsing and contemplating, I decided to treat myself to: (top left) 9×13 rectangular cake pan, (top center) heavy weight 12 cup Bundt pan, (top right) 10 cup leak-proof springform pan, (middle left) set of 6 Bundt measuring cups,  (middle right) a beautiful Heritage Bundt pan, (bottom right) Grand Popover Pan (bottom middle) bakers half sheet baking pan, (bottom right) silicone whisk, Once we returned home, I began playing with my new kitchen 'toys'. Who can resist new measuring spoons, whisk, and baking pans? Not me! Since I had a full bottle of Homemade Vanilla Extract that I couldn't wait to use, I decided to create the perfect gluten free Vanilla Bundt Cake.
This cake is moist, full of vanilla flavour, and has the perfect crumb for a Bundt cake. The journey to the perfect Vanilla Bundt Cake, similar to the drive to the Nordic Ware Factory Outlet, was no smooth ride. I tested numerous cakes, tweaked, and tested again. Along the way I made a few other great discoveries before I finally arrived at the perfect taste and texture for this Vanilla Bundt Cake. The perfect thing about Bundt cakes is that they don't require any frosting to make them "company-worthy" fare. A simple sprinkling of confectioners' sugar, or a drizzle of a simple glaze, is more than enough to make them presentable.  Take a look at the variety of Bundt pans that Nordic Ware makes. Absolutely gorgeous as is.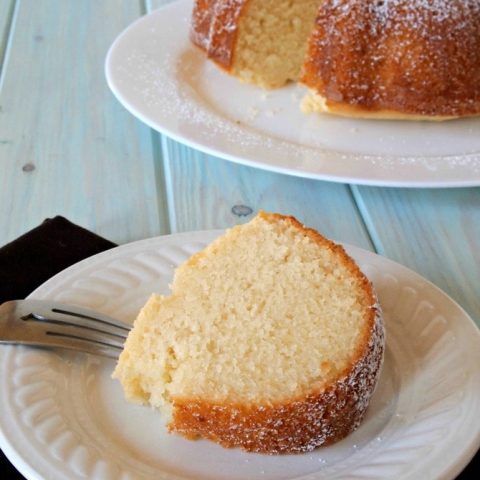 Gluten Free Vanilla Bundt Cake
Total Time:
1 hour
30 minutes
Consider this the "little black dress" of cakes. You can dress it up or keep it casual, depending on how you want to serve it.
Ingredients
1 cup white rice flour
1/2 cup brown rice flour
1/2 cup potato starch (not flour)
1/4 cup tapioca starch
1/4 cup sweet rice flour (also called glutinous rice flour)
1/4 cup dry milk powder
1 tablespoon baking powder
1 teaspoon xanthan gum
1/2 teaspoon salt
1 1/4 cup unsalted butter, cool but not cold
1 1/2 cups granulated sugar
4 large eggs, room temperature
1 1/4 cup milk, cool but not cold
Instructions
Remove the butter, eggs, and milk from the fridge 20-30 minutes before you begin mixing the batter to give them a chance to warm up slightly.
Preheat the oven to 325 degrees F. Prepare a 10 cup Bundt pan by greasing it, and sprinkling it with white rice flour, turning and tapping the pan until the inside is completely covered. Tap out the excess flour.
Whisk together the first 9 ingredients until they are thoroughly combined. Set aside.
In the bowl of a stand mixer, beat the butter and sugar on medium speed until fluffy and light in colour, this takes about 4-6 minutes. Scrape down the bowl.
Whisk the eggs to break them apart. With the mixer on low speed, slowly pour the whisked eggs into the butter/sugar mixture. This should take about 40-60 seconds. Scrape the bowl down again, and add the vanilla extract. Increase the speed to medium, and beat until the batter looks nice and smooth, scraping down the sides as necessary.
With the mixer on low, add in half of the dry ingredients. Mix until nearly blended, then slowly add the milk. Add the remaining dry ingredients, scrape the sides of the bowl, then beat for 30 seconds on medium speed.
Pour the batter into the prepared Bundt pan, spreading the batter even in the pan. Give the pan a few good taps on the counter to ensure there are no air bubbles trapped at the bottom of the batter.
Bake in the preheated oven for 60-65 minutes, or until a skewer inserted into the middle of the cake comes out clean and the top bounces back when gently pressed.
Move Bundt pan to a wire rack, and let the cake cool in the pan for 20 minutes. Place a cooling rack on top of the pan, and carefully turn over, giving the pan a little shake if necessary to release it from the pan.
Let the cake cool completely before serving. The cooled cake can be stored on the counter for up to 3 days if it has been wrapped in plastic wrap.
How about a chance to treat yourself to some new pieces of Nordic Ware? The fine folks at Nordic Ware have generously offered to gift $100 worth of product* to one of my lucky readers. Which pieces would you like to add to your collection? A fancy Bundt pan? Baking pans? A sauce pan? A scones pan? The possibilities are endless, and the choice is yours!
*Note: This is for online shopping only. Discontinued and irregular items are only available by visiting their retail location, not online.
First, some information about Nordic Ware:
a family-owned business in Minneapolis, Minnesota
has been in business for 67 years
2 out of 3 American households own and use Nordic Ware products
Nordic Ware products are Made in America
they are the world's leading cast aluminum kitchenware supplier
You can also watch How It's Made featuring the Nordic Ware cast aluminum pans. I found it very interesting, I hope you do too.
Contest is now closed. Thanks to all that entered.

Disclosure: Thank you to Nordic Ware for sponsoring this giveaway. The items I mention in this post are items that I paid for myself, and the opinions expressed are my own. We are a participant in the Amazon Services LLC Associates Program, an affiliate advertising program designed to provide a means for us to earn fees by linking to Amazon.com and affiliated sites.