Red and green peppers, cucumber, Kalamata olives, red onion, and Feta cheese all pair together with Something Blue Creamer potatoes to bring you this delicious Mediterranean Potato Salad.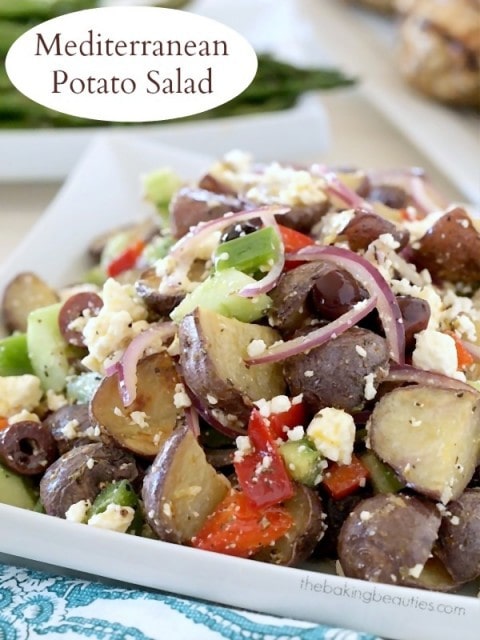 Usually when you think of "potato salad", you think of the kind that is filled with eggs and smothered in mayo. This is completely different, trust me. This salad is light, full of flavour and texture, and actually really healthy for you. To make the prep of this salad even easier, I used Something Blue Creamer potatoes from The Little Potato Company. Creamer potatoes come from the store nice and clean, so they don't need scrubbing, and the skin is so thin, that they don't require any peeling either. Just quarter them, drizzle with a little oil, sprinkle with some salt, and roast them. While they are roasting, you can chop the rest of the vegetables and mix up the dressing.
Something Blue potatoes actually have a bluish-purplish coloured skin, with a thin vein of colour running through the flesh as well. They are only available seasonally, so if you are unable to find them at your local store, you can substitute with a different Creamer potato varietal.

Mediterranean Potato Salad
This Mediterranean Potato Salad is great served hot or cold. Since there is no mayo, it is even safe to take on a picnic.
Ingredients
1 1/2 lbs Something Blue Creamer potatoes, cut into quarters
2 Tablespoons (30 ml) olive oil
1/2 teaspoon (2.5 ml) salt
1/2 cup (125 ml) EACH chopped red pepper, green pepper, and cucumber
1/4 cup (60 ml) EACH sliced red onion and Kalamata olives
3 oz (85 g) crumbled Feta cheese
Dressing:
1/4 cup (60 ml) olive oil
2 tablespoons (30 ml) lemon juice
2 cloves garlic, minced
1 teaspoon (5 ml) honey
1 teaspoon (5 ml) lemon zest
1/2 teaspoon (2.5 ml) dried basil
1/2 teaspoon (2.5 ml) dried oregano
salt and pepper to taste
Instructions
Preheat the oven to 400 degrees F (205 degrees C). Line a rimmed baking sheet with parchment paper.
In a large bowl, toss the quartered potatoes with 2 tablespoons of oil and salt until they are evenly coated. Pour them out onto the prepared baking sheet, and bake in the preheated oven for 25-30 minutes, or until they are tender when poked with a knife. Be sure to stir the potatoes once or twice while roasting them, to ensure even browning.
While the potatoes are roasting, prepare all the other vegetables. You can place them in the bowl that you used to coat the potatoes with oil.
In a small bowl, or wet measuring cup, whisk together the dressing ingredients. Set aside until the potatoes are done roasting.
Once the potatoes are fork tender, transfer them to the bowl with the other vegetables. Pour the dressing over the top, and stir until evenly mixed and all the vegetables are coated with dressing.
Serve immediately or refrigerate it and enjoy it as a cold salad.
This salad is great served with grilled chicken.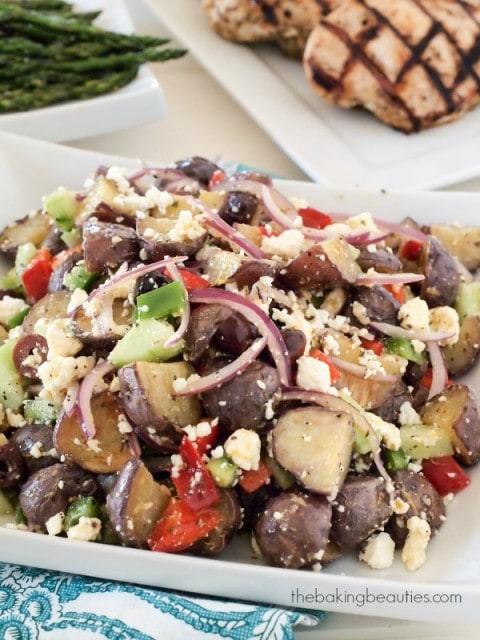 Disclosure: I received compensation in exchange for creating this recipe. As always, the opinions on this blog are my own.