These easy Mexican Tin Foil Dinners, with potatoes, peppers, onions, chicken, and a little bit of spicy cheese, will be a welcomed dinner at the end of a hot summer day. During the summer months, we're always looking for the easiest way to cook a  meal. Tin foil dinners, or hobo dinners as they are sometimes called, where the food is cooked on the grill in a foil packet, is such a great alternative during the summer heat.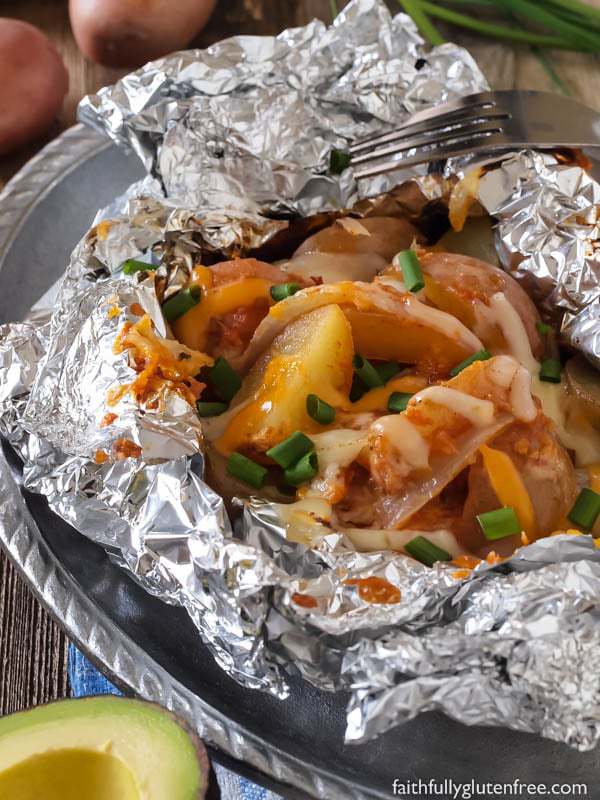 We used to make tin foil dinners quite a bit when we were camping. It's so handy to put everything in one packet, not even getting a frying pan dirty, to make supper. Fewer dishes is always a good thing when you're camping, right? Actually, it's always a good thing when you're at home too!
We've been enjoying some beautiful Manitoba weather lately, and that means that easy, quick meals are essential. No one wants to spend any more time than necessary in the kitchen when it's beautiful outside. These easy Mexican Tin Foil Dinners go together in minutes, and clean up is a breeze. Filled with chicken, Creamer potatoes, peppers and onions, they are also very filling.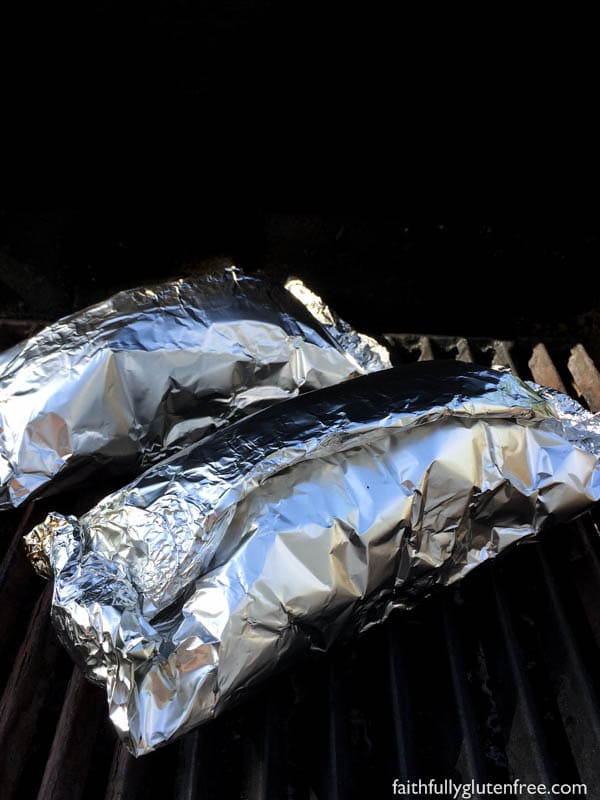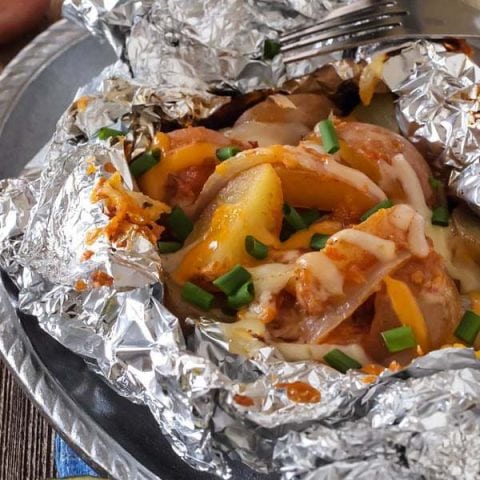 Easy Mexican Tin Foil Dinners
The recipe is for one serving, you can make as many or as few as you need. A 1.5 lb (680 g) bag of Little Potato Company Creamer potatoes will make about 6 servings.
Ingredients
6 strips of green or red pepper
1 boneless, skinless chicken breast
1 tablespoon (15 ml) salsa
4-5 Little Potato Company Blushing Belle Creamer potatoes, cut in half
1 small wedge of onion
2 tablespoons (30 ml) gluten free taco seasoned cheese
Instructions
Preheat your grill to about 400 degrees F (205 degrees C), or medium-high.
Lay a large piece of heavy aluminum foil, shiny side up, on the counter.
In the center of the foil, lay the strip of green or red pepper.
Rub the chicken breast on both sides with the taco seasoning. Place on top of the pepper strips.
Top the chicken with the salsa, halved Creamer potatoes, and onion slices. Sprinkle the top with the taco seasoned cheese (omit for dairy free).
Bring the two long sides of the foil together at the top. Begin making small folds in the foil, essentially rolling it up, leaving a little bit of room for steam above the food.
Roll up the ends of the foil towards the food, creating a tight seal on the sides.
Place the tin foil packet on the preheated grill, and cook for about 30-35 minutes, or until the chicken has reached an internal temperature of 180 degrees F (82 degrees C).
Be careful when you open the foil packet, as there is steam built up inside. Garnish with onion greens, avocado, or more salsa before serving. Enjoy!
Disclosure: This recipe was developed as part of my ongoing partnership with the Little Potato Company. All opinions expressed are completely my own.