Why buy pie filling in a tin when you can make your own delicious Sweet Cherry Pie Filling at home with only a few ingredients? So easy, you won't buy the canned stuff ever again.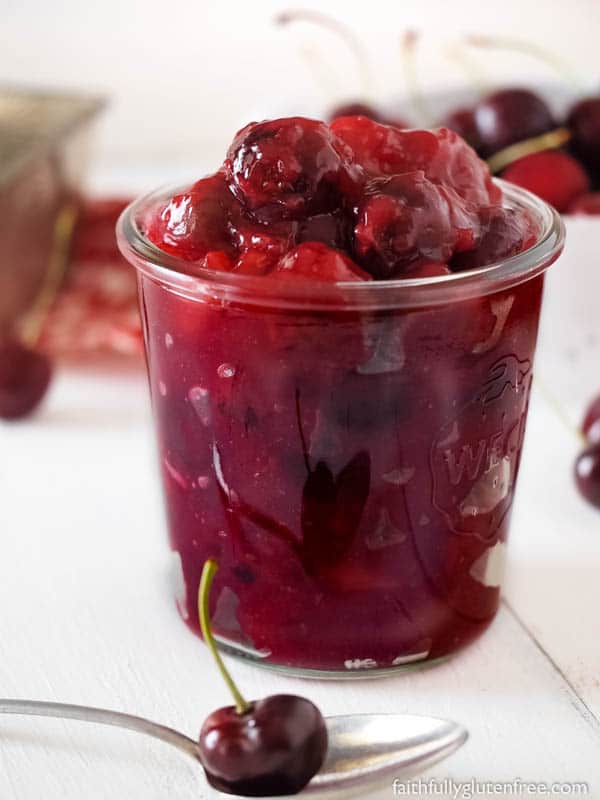 June and July are my two favourite months. Besides the temps in Manitoba finally feeling like summer, it is also the months that my favourite fruits are in season.
Strawberries are nearly ready at the U-Pick, peaches and nectarines are in stores (and are so good grilled), and at the top of my list – the sweet cherries are available for a few short weeks. Since they are only available for a short while, we take advantage of them when they are available. Sometimes eating so many, that tummy aches follow. But it's all worth it.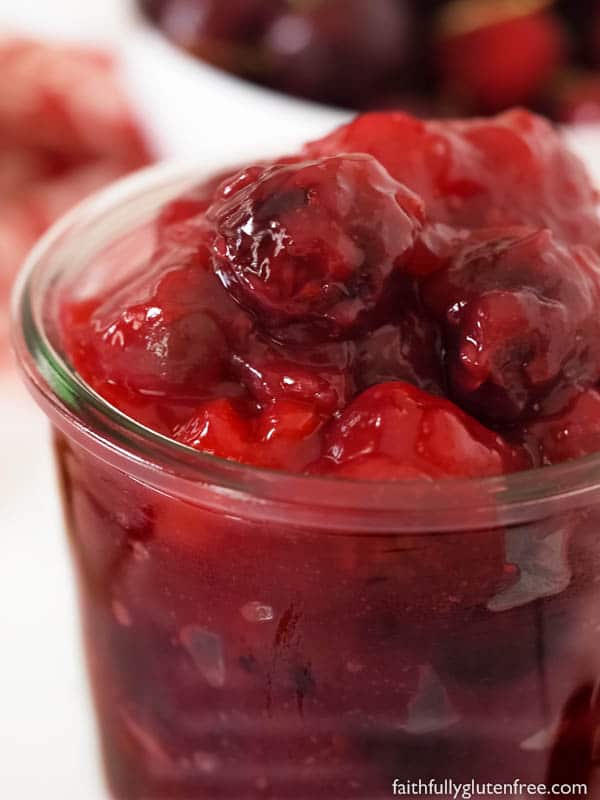 I first made this Sweet Cherry Pie Filling when I made some Black Forest Cheesecake Brownies a few years ago (you can find that recipe HERE). I surprised myself with how tasty it was. I really don't like buying pie filling in a tin. I find there is so much 'sauce', and so little fruit in those tins. But this filling, it is loaded with a full 4 cups of amazing sweet cherries.
It would be great poured into a pre-baked pie shell, used to top waffles, ice cream, or in yogurt parfaits. The options are really only limited by your imagination. If you can't have nuts, omit the almond extract, but if you can, try to use it. Sweet cherries and almonds are such an amazing flavour combination.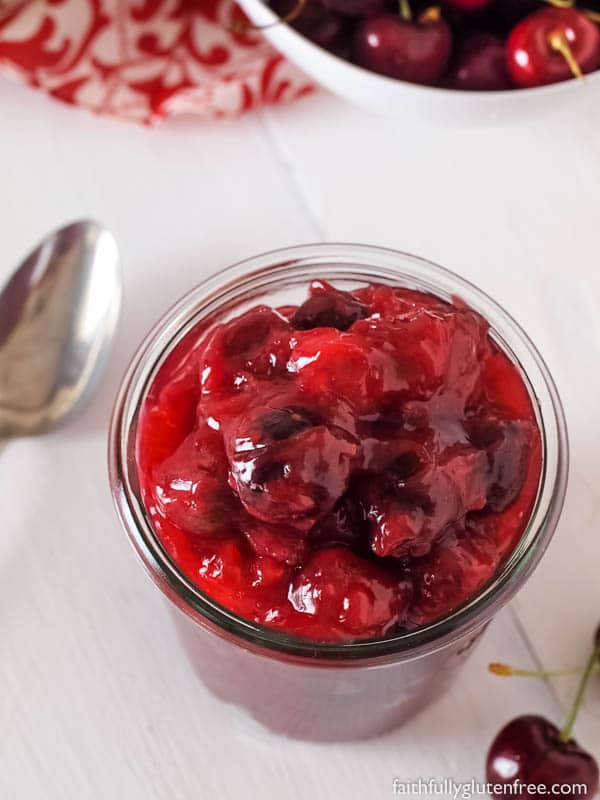 Don't drive yourself nuts trying to use any of the online methods of removing cherry pits. I've tried them all too, and while some may work alright, you are left with a horrible, red-splattered mess to clean up after. I've found the easiest way is to use a cherry pitter and a deep bowl to catch the splatter while you are removing the pits.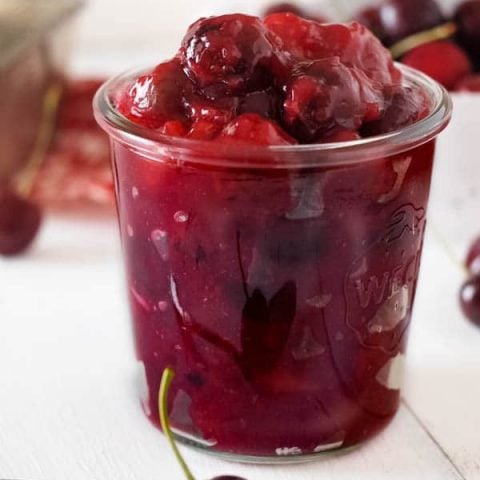 Sweet Cherry Pie Filling
Never buy cherry pie filling in a tin again! So easy to make, with a few ingredients you probably have on hand already.
Ingredients
2/3 cup (130 g)granulated sugar
1/4 cup(30 g) cornstarch
1/2 cup (125 ml) water
2 tablespoons (30 ml) lemon juice
4 cups (1 L) sweet cherries, pitted
1/4 teaspoon (1.25 ml) almond extract
Instructions
First you will want to pit your cherries. After giving them a good rinse, I find the easiest way to pit cherries is with my handy dandy cherry pitter. Sure, it doesn't have much uses besides pitting cherries, but when you don't have it, pitting cherries is, well, the pits.
In a large sauce pan, combine the sugar and cornstarch. Stir to blend. Add the water and lemon juice and whisk until smooth. Stir in the pitted sweet cherries.
Cook, stirring constantly, over a medium-high heat until the mixture comes to a boil. Reduce to heat to low, and continue cooking, stirring occasionally, for another 5 minutes. Remove from heat and stir in the almond extract.
At this point, you could pour it into a pre-baked crust, or you can cover it with plastic wrap, and refrigerate until ready to serve. If you find the mixture too thick, you can add extra water, 1 tablespoon (15 ml) at a time, stirring to incorporate the extra liquid, until you reach your desired consistency.
I made this Sweet Cherry Pie Filling for a special Father's Day dessert this year. I will be sharing that recipe with you in a few days, so be sure to
subscribe so you don't miss it
!
Disclosure: This post may contain affiliate links. If you make a purchase using these links – your cost remains the same, but I earn a small percentage to help support this blog. Thank you!