Crispy on the outside, but soft and chewy on the inside, these naturally gluten free Mini Pavlova are the perfect end to dinner.
Although pavlova are naturally gluten free, in my nearly 7 years of having to eat gluten free, I have never successfully made one. I tried once a while ago, but wasn't happy with the results I got, and just dropped it. But after making that grapefruit curd, I knew I wanted to use it to top some single-serving sized, Mini Pavlova.
Pavlova is simply an egg white dessert – a meringue – that has been baked at a low temperature so that it is crispy on the outside, and marshmallow-y on the inside. Before serving, you top it with some whipped cream, or in my case, some Vanilla Grapefruit Curd.
While eating his pavlova for dessert, my son said, "I sure hope these didn't work so you can make them again". He knows how to get the food that he likes again. He tries to convince me that the recipe didn't work, and that I need to make them again. Funny kid.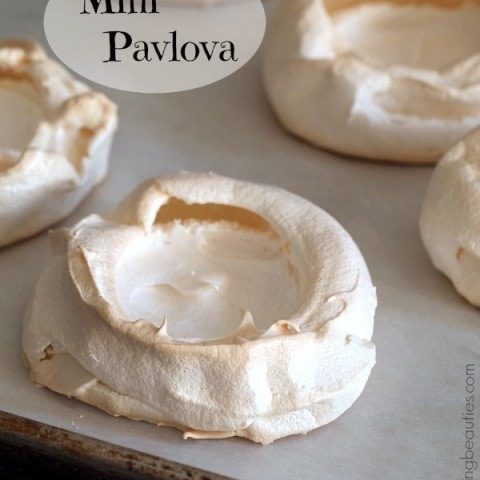 Mini Pavlova
Total Time:
1 hour
10 minutes
Crispy on the outside, but soft and chewy on the inside, these naturally gluten free Mini Pavlova are the perfect end to dinner.
Ingredients
3 large egg whites, room temperature (see Note)
1/2 teaspoon (2.5 ml) cream of tartar
1 pinch of salt
2/3 cup (150 g) sugar
2 teaspoons (10 ml) cornstarch
1 teaspoon (5 ml) vinegar
1/2 teaspoon (2.5 ml) pure vanilla extract
Instructions
Preheat the oven to 275 degrees F (135 degrees C). Line a baking sheet with parchment paper.
In a tall, metal bowl that is completely free from oil or egg yolks, whisk together the egg whites, cream of tartar, and a pinch of salt.
With a hand mixer, or stand mixer fitted with a whisk attachment, beat the egg whites until soft peaks form.
With the mixer still running, slowly add the sugar, 2 tablespoons at a time. Continue to beat on high speed until stiff peaks form. If you feel the meringue between your fingers, it should be smooth. If you still feel the sugar granules, keep beating on medium speed until the sugar has fully dissolved.
Add the cornstarch, vinegar, and vanilla to the egg whites, and whisk to incorporate.
Spoon about 1/2 cup of the egg white mixture for each pavlova. Spread each into a 3-inch (7.5 cm) circle, with higher sides, and a slight hollow in the middle. You should have enough for 6 mini pavlovas.
Bake the pavlovas in the preheated oven for 25-30 minutes, or until they are very light tan in colour, and the meringue seems set. Open the oven door an inch, and allow the pavlova to cool completely.
Top the pavlova with some whipped cream and fresh fruit or fruit curd, immediately before serving. You can prepare the pavlova hours in advance, and store in an air-tight container until serving.
Notes
Separating the egg whites from the yolks is easier to do when the eggs are still cold. Separate them, then let them come to room temperature. You can use the egg yolks to make this easy Vanilla Grapefruit Curd.