Jams, jellies, relish, chutney, and pickles. The Canning Kitchen is full of tasty, easy recipes for preserving in small batches.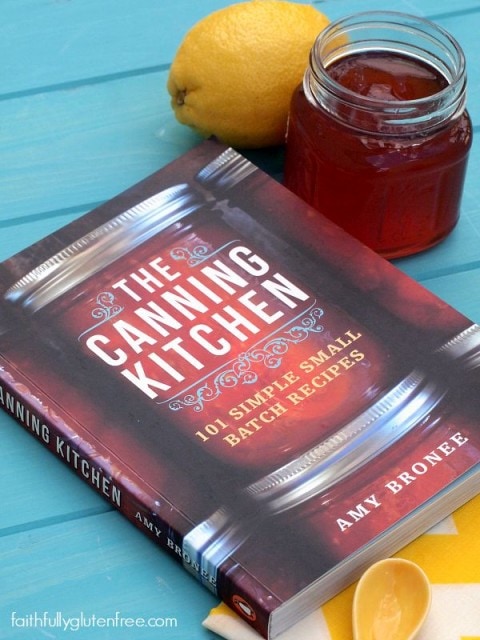 I've been following fellow Canadian blogger, Amy Bronee of Family Feedbag for quite a while already. Although she does not blog solely gluten free food, she creates simple food from scratch, many of which are naturally gluten free, or easy to adapt. When I found out that she was writing a canning cookbook, I was very intrigued. I had heard that she'd taught classes in her hometown on Vancouver Island, and couldn't wait to see her book.
When I was asked by the Food Bloggers of Canada if I would like to review Amy's new cookbook, The Canning Kitchen: 101 Simple Small Batch Recipes, I didn't hesitate. Definitely! I will admit, I seldom do any canning. I cook strawberry jam in the early summer, but I always freeze it. I do can salsa and tomato soup in late summer so I do own a canner, it just doesn't get enough use. I love the concept of canning and preserving the fresh fruits and vegetables to use throughout the year, but sometimes it just seems daunting. The Canning Kitchen has completely debunked that myth. It's time to put that canner to good use!
Amy's recipes are clearly written, and easy to follow. Nearly all the recipes are naturally gluten free. A few recipes call for malt vinegar or beer, but you would still have over 95 recipes that can be made exactly as written. Most of the recipes make only a few jars at a time, which means that they would also be great to make for hostess or teacher's gifts.
Paging through to book, I had a hard time deciding what to make. There are so many great recipes for both sweet and savoury items. My daughter and I decided to make the Pink Lemonade Jelly, and the Apple Pie Jam. Oh. My. Goodness. Seriously good stuff! I had never made a jelly before, but following Amy's instructions resulted in a beautiful pink, clear jelly that set up beautifully. We enjoyed it on some vanilla scones. And the Apple Pie Jam? It's the perfect jam to make yogurt parfaits with – vanilla yogurt, Apple Pie Jam, and gluten free granola would be perfect.
Thanks to Penguin Random House Canada Limited, you can enter to win your own copy of The Canning Kitchen.
Hop on over to these other blogs to read more about The Canning Kitchen, and enter to win a copy of Amy's book there too (some links will be added throughout the week, all links will be clickable by Friday).
Janice of Kitchen Heal Soul makes Sweet Thai Chilli Chutney
Bridget of Bridget's Green Kitchen makes Apple Butter
Jenny of The Brunette Baker makes Strawberry Rhubarb Jam
Megan of Food Whine makes Strawberry Jam
Anita of The Organic Experiment makes Zesty Pizza Sauce
Tiffany of Eating Niagara makes Blueberry Lime Jam
Julie of Try Small Things makes Thick Cut Orange Marmalade
Kelly of KellyNeil.com makes Hot Dog Relish
Michelle of The Tiffin Box makes Sour Cherry Jam
Disclosure: Although I received a complimentary copy of this book from Penguin Random House Canada Limited for review purposes, the opinions expressed are completely my own. This post contains affiliate links. If you make a purchase using these links – your cost remains the same, but I earn a small percentage to help support this blog. Thank you!