Fresh basil, garden grown tomatoes, and soft mozzarella cheese add a burst of Italian flavour to this Caprese Potato Salad.
Where has the summer gone? I can't believe we're a week into August already. We're still trying to squeeze as much out of our summer as possible. Eating outside as often as we can. Going for family walks in the evening. Sitting around the fire every weekend (when there aren't severe thunderstorms). And grilling. We've been doing a lot of barbecuing this year, including trying some new-to-us things, like using a smoker box and slow cooking beef brisket.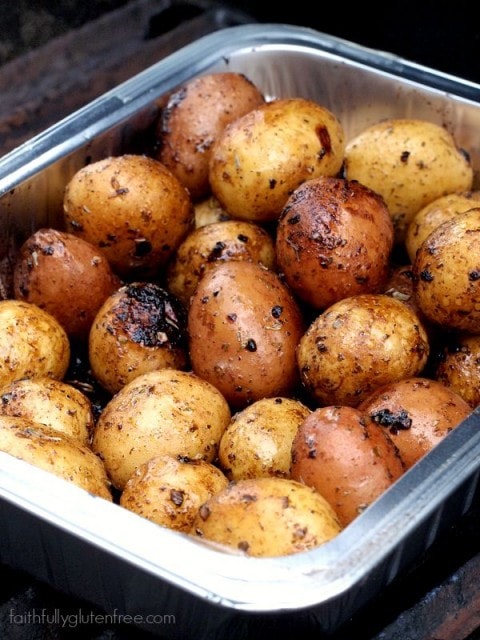 Another things we're loving on the barbecue? These Little Potato Company BBQ ready packs. Talk about an easy way to make a side dish. The foil trays include the Creamer potatoes and a seasoning packet, and all you have to add is some oil before placing it on the grill. The seasoning packets are gluten free and contain no MSG, which is always nice.
Caprese Potato Salad
Caprese Potato Salad
This post may contain affiliate links. Please read my disclosure policy for more information.
August 11, 2015 By Jeanine Leave a Comment (Edit)
Pause
Unmute
Remaining Time -0:47
Fullscreen
Fresh basil, garden grown tomatoes, and soft mozzarella cheese add a burst of Italian flavour to this Caprese Potato Salad.
Ingredients
454 gr package Garlic Herb Oven/BBQ Ready Creamer potatoes
3 tablespoons balsamic vinegar, divided
100 grams mozzarella cheese, cubed
1 large tomato, diced
6-8 large basil leaves, chopped
1 tablespoon olive oil
1 clove garlic, minced
salt and pepper to taste
Instructions
Prepare the Garlic Herb Oven/BBQ Ready packet according to package directions. When tossing the potatoes with the oil and seasoning packet, add 2 tablespoons balsamic vinegar. Cook on the grill for 35-45 minutes, or until the potatoes are easily pierced with a fork.
While the potatoes are cooking, stir together the mozzarella cheese, tomato, basil, garlic, 1 tablespoon balsamic vinegar, 1 tablespoon olive oil, garlic, and salt and pepper. Let the flavours meld while the potatoes cook.
When the potatoes are done cooking, you can remove them to a rimmed baking sheet, and let them cool before adding them to the tomato/mozzarella mixture, and eat the salad cold. Or add the hot potatoes directly to the mixture and eat it hot. Caprese Potato Salad is great with grilled chicken, steak, or salmon.
Don't let summer pass you by! Now's your chance to enter to
WIN a month supply of Creamer potatoes
from
the Little Potato Company
. Open to Canada & US.
Disclosure: This recipe was developed as part of my ongoing partnership with Little Potato Company. All opinions expressed are completely my own.