So, yesterday another 2 entree finalists were announced for the Real Women of Philadelphia contest. I didn't hold any hope on getting through on that round. Although the Cheesy Chicken and Spinach Rolls were absolutely delicious, I had only entered 1 recipe for that week. Most week, I entered 2 or 3 recipes. But, my heart wasn't in entree week…I was looking forward to dessert week. Oh yeah, desserts. What better way to use cream cheese than in desserts. Mmm…
When we began dessert week, my daughter challenged me to make 2 desserts per day. That is 14 desserts for the week. To have some fun with the RWoP challenge, I decided to focus on completing my daughter's challenge to me, instead of just the challenge of entering winning desserts. Now, all these recipes are winners to me, I really have a hard time picking the favorite from that week. I completed the challenge my daughter put before me, and made not only 14 desserts that week, but I actually did 15 desserts! CRAZY!! But so fun! I absolutely love making desserts, and love making cream cheese desserts, that I really had a great time. My fingers are crossed for next Wednesday, when the final 2 finalists are announced. And if I don't get a finalist position I'll go sit in the corner and cry I hope to at least get one of the Philly Spirit Awards, which sound pretty good as well (but not as good as a paid trip to Toronto, having a cook-off and meeting Anna Olson). 😉
So, let's begin the dessert recipes, shall we? I hope you guys enjoy! Remember, each of the recipes for the contest can be made, from scratch and ready to eat, in 1 hour (or less).
I whipped this dessert together because my parents were coming over for a visit. My Mom loves coffee flavoured desserts, and I knew she'd love this gluten-free Caramel Macchiato Cheesecake, infused with the flavours of a Caramel Macchiato. It takes a very short time to put together, but is not short on taste or flavour at all. The filling is so thick and creamy, you'd think it would take a long time to put together. But, in 1 hour, you can be enjoying this delicious, rich coffee-house dessert.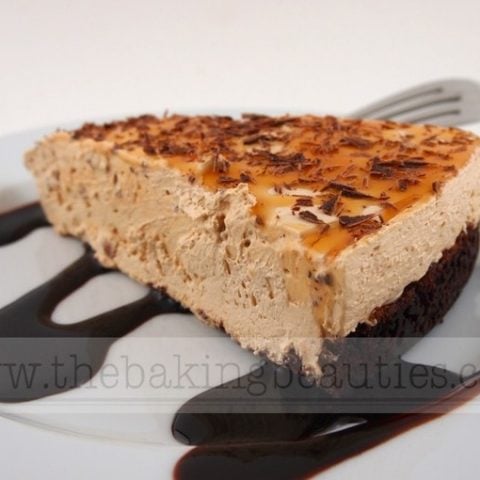 Gluten-Free Caramel Macchiato Cheesecake
The flavours of the coffeehouse favourite are featured in this simple no-bake cheesecake.
Ingredients
1 1/4 cups gluten-free graham wafer crumbs
1/4 cup granulated sugar
1/4 cup cocoa powder
3 tablespoons unsalted butter, melted
8 ounces cream cheese, softened
1 1/2 cups confectioners' (icing) sugar
2 tablespoons espresso powder
1 litre Cool Whip, thawed
1/4 cup toffee bits
1/4 cup caramel sauce
1 tablespoon chocolate shavings (optional)
Instructions
Preheat oven to 350 degrees F.
In a mixing bowl, combine the graham wafer crumbs, sugar and cocoa powder. Stir in the melted butter, until blended. Pour crumb mixture into a 10-inch spring-form pan. Lay a piece of plastic over the crumb mixture, and begin spreading it around the bottom of the pan, and 1-inch up the sides of the pan. Using a flat bottomed cup to press the crumb mixture down helps to get the crust layer smooth & even.
Bake in preheated oven for 7-8 minutes. Remove from oven, and allow to cool in fridge for 10 minutes.
While the crust is baking, prepare the cream cheese filling. Place the cream cheese, confectioners' sugar, and espresso powder in a large mixing bowl. Using a hand-mixer, blend until smooth & creamy. Add 1/2 the tub of Cool Whip, and blend again. Scrape down the bowl to make sure all of the cream cheese is getting incorporated. Add the remaining Cool Whip, and mix until evenly blended. Stir in the toffee bits.
Once the crust is cool to the touch, carefully spread the cream cheese mixture into the crust, spreading it until even and level.
OPTIONAL: The top can be garnished with caramel sauce and chocolate shavings at this point, or before serving.
Place cheesecake in fridge for 30-40 minutes. Carefully remove spring-form pan ring, and place on serving plate. Keep refrigerated until serving. Can be kept in the fridge for up to 3 days.