These Classic Gluten Free Buttermilk Waffles are so easy to make. Crispy on the outside and fluffy in the middle, this is a recipe that you will be making again and again.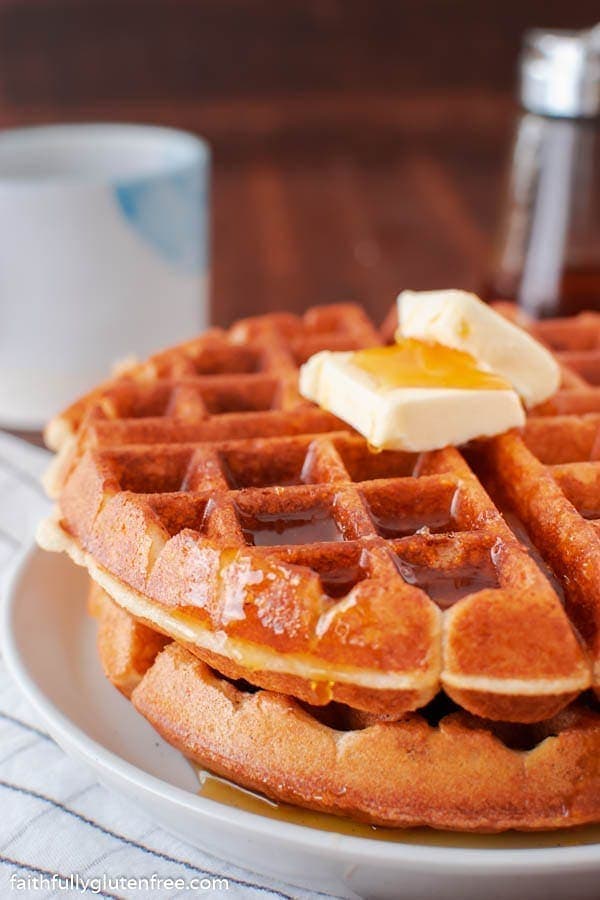 I can't believe I have neglected to share this recipe for gluten free waffles here before now. It is actually in my book, The Everything Guide to Living Gluten Free, which doesn't appear to be readily available anymore.
I have been making these easy gluten free Waffles for years, and you would never know they are gluten free if I didn't tell you.
With a few gluten free pantry staples, you can whip up a batch of this waffle batter in minutes. There is no need to separate the eggs and beat the egg white separately. I always mix the eggs into the buttermilk mixture, and get great results.
How to make crispy Gluten Free Buttermilk Waffles:
It is really easy to make a great gluten free waffle. One that is crisp on the outside, and fluffy in the middle.
Simply, whisk the dry ingredients together in a mixing bowl. Whisk the wet ingredients together in another bowl, and pour into the dry ingredients. Whisk together until no large lumps remain.
Be sure to preheat the waffle iron. This will help the batter to crisp up on the outside, and keep the waffle from sticking to the waffle iron.
If necessary, spray the waffle iron with non-stick spray before adding the batter. Be sure to read the ingredients, and some non-stick sprays contain flour.
Cook your waffle until the amount of steam rising from the waffle maker has lessened. My waffle iron doesn't have a timer, but once the amount of steam rising has slowed down, I know I can check to see if the waffle is nicely browned.
Don't overfill the waffle iron or the excess dough will just run down the sides of your waffle maker. That's just wasted batter. I use a soup ladle to spoon batter into my waffle iron (a Belgian waffle iron).
Preparing gluten free Buttermilk Waffles ahead of time:
When I make gluten free waffles, I heat my oven to 250 degrees F. I place a large baking sheet in the oven, and as the waffles are cooked, I place them on the hot baking pan. This keeps them hot and crispy until all of the batter is cooked, and we can all eat together.
If you have a waffle iron that makes square waffles, you can let them cool completely on a wire cooling rack, and wrap the waffles in plastic wrap before placing them in a freezer zipper seal bag. Unwrap and pop the frozen waffle in the toaster for a quick breakfast on the go.
Can I use the same waffle iron for gluten and gluten free waffles?
No, you will definitely want to invest in a new waffle iron if you have used yours for gluten-filled waffles in the past.
The surface of a waffle iron is too difficult to properly clean to make it safe for those that need to eat gluten free.
Toppings for gluten free Buttermilk Waffles:
Maple Syrup
Whipped Cream
Fruit (sliced strawberries, blueberries, raspberries, peaches, etc)
More gluten free Breakfast ideas:
Easy Gluten Free Buttermilk Waffles Recipe:
Easy Gluten Free Buttermilk Waffles
These Classic Gluten Free Buttermilk Waffles are so easy to make. Crispy on the outside and fluffy in the middle, this is a recipe that you will be making again and again.
Ingredients
1 1/3 cups brown rice flour
1/2 cup potato starch
1/4 cup tapioca starch
2 teaspoons baking powder
2 teaspoons granulated sugar
1 teaspoon baking soda
1 teaspoon xanthan gum
1/2 teaspoon salt
2 cups buttermilk (see Note)
2 large eggs
6 Tablespoons oil
2 teaspoons pure vanilla extract
Instructions
Preheat your waffle maker to desired temperature. Lightly oil if necessary.
In a large mixing bowl, whisk together all the dry ingredients.
In a separate bowl, whisk together the wet ingredients. Pour the wet ingredients into the dry ingredients and whisk to combine. Add more buttermilk if you think your batter is too thick.
Use a ladle or cup to scoop the waffle batter into the middle of the waffle iron. Close the lid, and allow to cook according to manufacturer's instructions. You will know the waffles are done, or close to done, when the steam stops rising.
Serve immediately with your favorite waffle toppings.
Notes
No buttermilk? No problem! You can easily make a "buttermilk" by mixing 2 Tablespoons of lemon juice or vinegar with enough milk to make 2 cups. Stir, and let sit for 5 minutes before using.
To serve the whole family warm waffles at once, simply preheat your oven to 250 degrees F. Place the cooked waffles on a cookie sheet in the oven until ready to serve.
Feel free to scale this recipe to fit your needs - I have halved it, doubled it or tripled it without any problems.
Recommended Products
Disclosure: We are a participant in the Amazon Services LLC Associates Program, an affiliate advertising program designed to provide a means for us to earn fees by linking to Amazon.com and affiliated sites.
Don't forget to PIN THIS recipe for later! You never know when a waffle craving might hit.