Create this smooth No-Churn Peppermint Ice Cream without an ice cream maker. Only 4 ingredients are needed to make a batch of this seasonal favorite.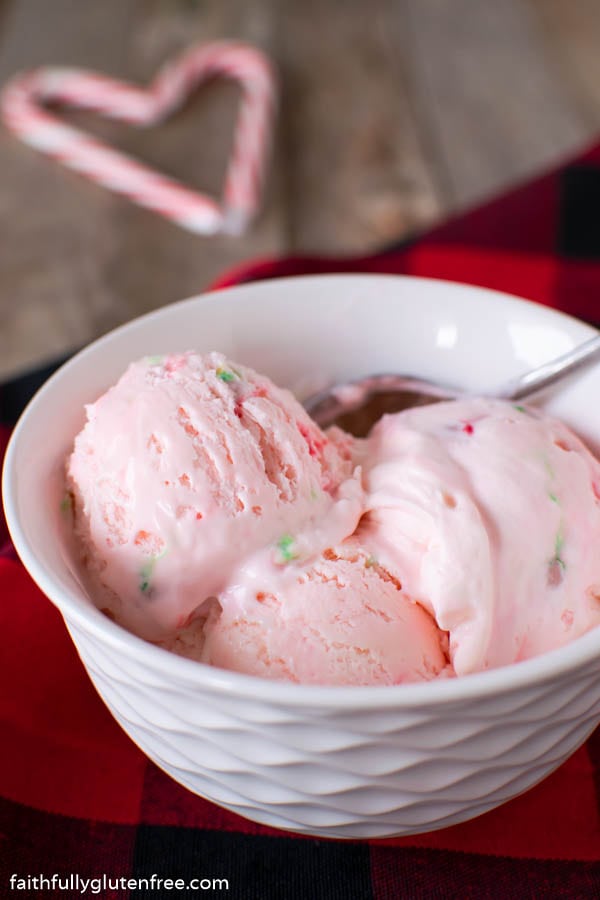 Years ago, before being diagnosed with Celiac disease, I used to buy peppermint ice cream in the month or so leading up to Christmas. The one that I bought was filled with little pieces of candy cane.
Today you can find candy cane ice cream in the store, but it usually has chocolate, either chips or shavings, in it too. I prefer the ice cream with just the candy cane pieces in it, so I decided to re-create that ice cream at home.
Although I do have an electric ice cream maker, I will admit, I haven't used it in years. It's one of those things sitting on the shelf, collecting dust right now. Instead, I've found a way to make a smooth, rich ice cream without an ice cream maker.
Using a base of whipped cream and sweetened condensed milk, you can make an ice cream in nearly any flavor. I've made a No-Churn Rhubarb Ice Cream, and a No-Bake Strawberry Ice Cream Cake using this base in the past. "No-Churn" means that the ice cream is made without an ice cream maker, which has a paddle that stirs, or churns, the custard while it is freezing it.
This time, I decided to turn this no-churn ice cream base into the candy cane ice cream I remember from years ago.
Tips to make the best No-Churn Ice Cream:
To ensure that your No-Churn Ice Cream has the correct texture once it is frozen, be sure to beat your whipping cream to stiff peaks. When your beater is held upright, the whipped cream peaks will hold their shape. If they bend over, or fall flat, you need to continue to beat the whipping cream longer.
No-Churn ice cream has such a smooth consistency because it has a low moisture content. Be sure the add-ins you use don't contain a lot of water, or the ice cream will form more crystals when freezing.
Be sure to cover the container you are using to freeze the ice cream in. A long, shallow container (like a loaf pan) works better than a deep container. Covering it will prevent the ice cream from drying out or taking on other flavors that might be in your freezer.
More gluten free recipes featuring candy canes:
Easy No-Churn Peppermint Ice Cream recipe:
No-Churn Peppermint Ice Cream
Total Time:
4 hours
10 minutes
Create this smooth No-Churn Peppermint Ice Cream without an ice cream maker. Only 4 ingredients are needed to make a batch of this seasonal favorite.
Be sure you use a peppermint extract and candy canes that you like the flavor of. I've found they aren't all created equal. I used Watkins mint extract, it is made using a blend of peppermint and spearmint oils.
Ingredients
2 cups heavy whipping cream
Pink coloring (optional)
1 can (300 ml) sweetened condensed milk
1/2 - 3/4 teaspoon mint extract
1/2 cup crushed gluten free peppermint candy canes (about 7)
Instructions
In a deep metal or glass mixing bowl, beat the whipping cream until stiff peaks form. Add the pink color if using, and beat until it is an even color.
In another mixing bowl, stir together the sweetened condensed milk and peppermint extract.
Stir about 1 cup of the whipped cream into the sweetened condensed milk mixture to lighten the mixture.
Fold in the remaining whipped cream.
Fold in the crushed candy canes.
Scrape into a freezer safe container. Cover with plastic wrap, and freeze for 4 hours (or overnight).
Scoop, serve, and enjoy. You may need to remove the frozen ice cream from the freezer a few minutes before serving, to make scooping easier, depending on how cold your freezer is.
Notes
Be sure to read labels on the candy canes. I found that many candy canes contained a "May contain wheat" statement.
To break the candy canes up, unwrap them and place them in a large freezer zipper seal bag. I carefully hit mine with a rolling pin to break them into nice little pieces.
Be sure to
PIN THIS RECIPE
for later!