Enjoying the taste of pumpkin doughnuts, rolled in a wonderful cinnamon and sugar mixture, is as easy as baking these Gluten Free Mini Pumpkin Donut Muffins.
Fall is definitely in the air here in Manitoba, and that can only mean one thing. I have gone nuts for all things pumpkin again! I blame my Mom, she's an enabler this year, providing me with as many pie pumpkins from her garden as my arms can carry. And I'll admit, I'm  a hoarder when it comes to the pumpkins. I'll get my hands on as many as I can, even if I don't know what I'm going to do with all of them. I've already got quite a few pumpkin recipes on the site, and will apologize in advance for the ones that I'm sure are to come yet.
I just can't help myself this time of year. The cooler air and turning leaves call for the smell of cinnamon, nutmeg and cloves to fill the air. So, whether you're missing out on Starbuck's Pumpkin Scones or their Pumpkin Cream Cheese Muffins, I've got you covered. Looking to make some Pumpkin Waffles or Pumpkin Cinnamon Rolls? Don't fret – I've got that too! As a matter of fact, I've even got two other Pumpkin Doughnut recipes on my site – one for fried Pumpkin Spice Doughnut Holes, and the other for baked Pumpkin Chocolate Chip Doughnuts. But these… these are much easier than either of the above. You don't need to worry about oil temperatures, or whether you have a doughnut pan. All you need is a mini muffin tin, which is easy to obtain, and really quite useful.
These gluten free mini Pumpkin Donut Muffins are ready to eat in about 20 minutes. Perfect for a quick dessert or treat when company is coming over, but they are also perfect to send in lunch kits. They are best to eat in the first two days, because by day 3 the topping gets pretty wet. If you want to make them in advance and freeze them, I would suggest dipping them in the melted butter and cinnamon/sugar mixture after defrosting them.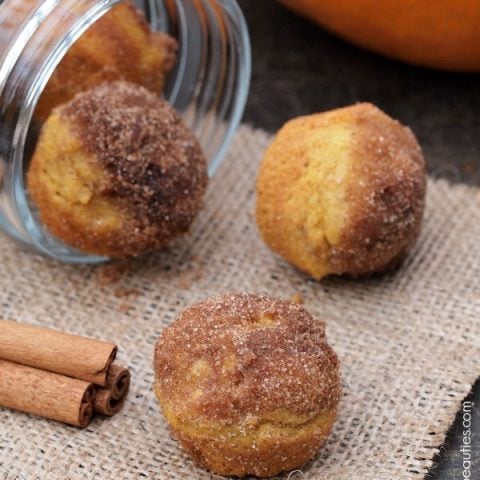 Gluten Free Mini Pumpkin Donut Muffins
Enjoying the taste of pumpkin doughnuts, rolled in a wonderful cinnamon and sugar mixture, is as easy as baking these Gluten Free Mini Pumpkin Donut Muffins.
Ingredients
1/2 cup (75 g) brown rice flour
1/2 cup (65 grams) sorghum flour
1/2 cup (60 grams) tapioca starch
2 teaspoons (9 g) baking powder
1 teaspoon (3 g) xanthan gum
1/2 teaspoon (2 g) salt
1/2 cup (85 g) brown sugar, packed
1/2 cup (125 ml) milk of your choice
1/3 cup (80 ml) oil
1 large egg
2 teaspoons (10 ml) vanilla
1/3 cup melted butter (dairy-free or regular)
1/2 cup (100 grams) granulated sugar
1 tablespoon (8 g) ground cinnamon
Instructions
Preheat the oven to 350 degrees F (175 degrees C), and grease your mini muffin tins. Set aside.
In a large bowl, whisk together the brown rice flour, sorghum flour, tapioca starch, baking powder, pumpkin pie spice, xanthan gum, and salt.
In a separate bowl, whisk together the pumpkin puree, brown sugar, milk, oil, egg, and vanilla.
Pour the wet ingredients over the dry, and stir to combine. Spoon the batter into the prepared baking pan, about 1 tablespoon of batter per cup.
Bake in preheated oven for 10-12 minutes or until they bounce back when gently pressed.
While the muffins are baking, melt the butter, and in a separate bowl, stir together the granulated sugar and cinnamon.
Once the muffins are done baking, let them sit in the baking pans for about 2 minutes. Remove from pan, dip the tops of the muffins in the melted butter, followed by the cinnamon/sugar mixture. Place on a wire cooling rack to cool completely. Store in an air-tight container.
These muffins are really good the first and second day, but by the 3rd day, the topping does get quite wet. Keep that in mind.
Disclosure:
We are a participant in the Amazon Services LLC Associates Program, an affiliate advertising program designed to provide a means for us to earn fees by linking to Amazon.com and affiliated sites.