I know I just posted
a peanut butter cookie
, and I do have a few other recipes I want to share with you, but after making these gluten free Peanut Butter Caramel Thumbprint Cookies yesterday, I just had to share. This recipe converted to gluten-free quite easily, and I was quite surprised at how well everything went together. And to have such a pretty (and fancy) looking peanut butter cookie made within a relatively short amount of time, I thought it was worth sharing.
These are simply a peanut butter cookie, that, after baking, has an indent formed in the middle. The peanut caramel cooks up nicely while you're baking the cookies, or it can even be made ahead of time. You will have some caramel left over, which stores well in the fridge. It would be great over ice cream or spread on toast.
The flavour is even better the next day, as the peanut butter flavour really comes out. The cookie is crisp, topped with the sweet peanut caramel. The chocolate is optional, but I think it adds a nice touch.
This recipe is adapted from The Art and Soul of Baking by Cindy Mushet.
I won this cookbook late last year from Foodista, and I love this book. It is a HUGE hardcover book, that although not gluten-free, is loaded with great kitchen and baking information. It is sort of like a "How-to" book, with explanations into how things are done, and why. Very informative, and the recipes are written in a way that any home-baker can follow them. I look forward to converting more of these recipes into gluten-free in the future.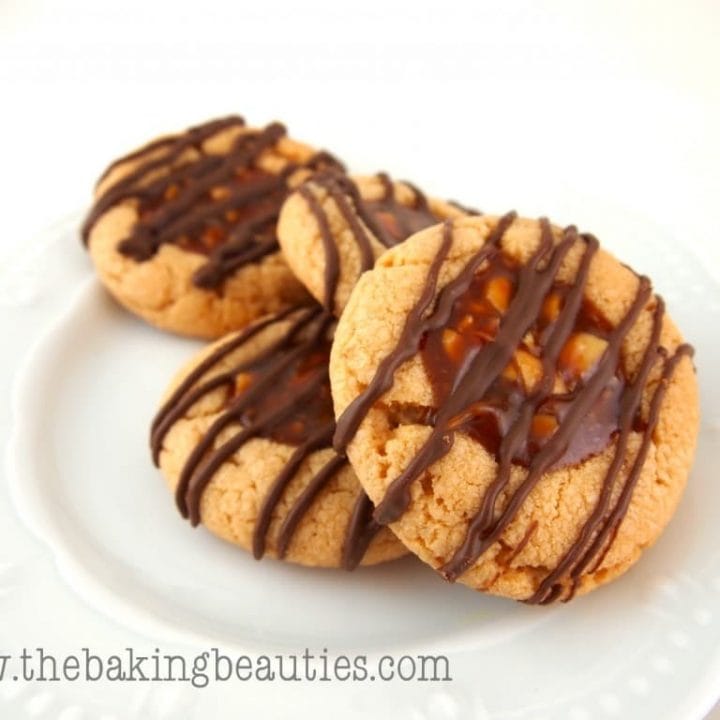 Gluten Free Peanut Butter Caramel Thumbprint Cookies
Ingredients
Cookies:
1/2 cup unsalted butter, softened
1/2 cup brown sugar, packed
1/2 cup granulated sugar
1 large egg
1 teaspoon vanilla extract
3/4 cup creamy peanut butter (see Note)
1 3/4 cup all purpose gluten-free flour blend (see Note)
1 teasoon xanthan gum
1/2 teaspoon baking soda
1/8 teaspoon salt
Peanut Caramel:
1 cup heavy whipping cream
1/2 cup water
1 cup granulated sugar
1 tablespoon light corn syrup
1/8 tsp salt
3/4 cup finely chopped roasted and salted peanuts
Chocolate Drizzle
4 ounces semi-sweet or bittersweet chocolate, finely chopped and melted (optional)
Instructions
Cookies:
Preheat oven to 350 degrees F, and line your baking sheets with parchment paper. Set aside.
In the bowl of a stand mixer, beat the butter, brown sugar and white sugar until smooth and blended. Scrape down the bowl. Add the egg and vanilla and beat until smooth. Add the peanut butter and mix until well blended. Scrape down the sides of the bowl.
In a medium bowl, combine the all-purpose gluten free flour, xanthan gum, baking soda and salt. Add to the butter mixture all at once. Turn the mixer on low and mix until just blended.
Using a small scoop (or two tablespoons), drop dough onto prepared cookie sheet in tablespoon-size mounds (I used my smallest Pampered Chef cookie scoop). You will want about 1 1/2" between the cookies. Roll each ball between your hands to get a nice round ball-shape.
Bake the cookies in the pre-heated oven for 11-13 minutes, or until they are a nice light brown colour. After you have removed them from the oven immediately use the back of a kitchen utensil (wooden spoon, pizza cutter, ice cream scoop, etc) to make an indent in the middle of the cookie. You don't want to press all the way through the cookie, but you want an indent big enough to hold the caramel. I found I had to do this twice, as they puffed up right after I created the indent the first time. Remove to cooling rack and allow to cool completely. Repeat until you have baked all the cookies.
Peanut Caramel:
In a microwave-safe bowl, heat the whipping cream until hot. Set aside.
Place the water in a medium saucepan, and add the sugar, corn syrup and salt. (You will need a larger pan, because when you add the whipping cream, it will really boil up, make sure you have that extra space).
Cook over medium heat, stirring occasionally, until the sugar has dissolved. Place your heated cream within arms reach.
Turn the heat to high and cook the sugar mixture, swirling occasionally to ensure it is browning evenly. You want to cook the sugar mixture until it is a golden brown, keep an eye on it, because when it starts to turn colour, it turns colour quickly.
Immediately remove the sugar mixture from the heat, and carefully whisk in the heated cream, adding it in a slow, steady stream. Whisk to blend the caramel well. Stir in chopped peanuts.
Pour into heat-proof bowl, and set aside to cool slightly. You want the caramel to cool, but still be pourable. If it gets too cool, you can liquefy it by warming it up in the microwave a little bit.
Filling the Cookies:
Spoon the peanut caramel into the depressions of each cookie. Allow the filling to cool and set for an hour before topping with chocolate (if using).
Topping with Chocolate:
Place the melted chocolate in a small resealable plastic bag. Snip a tiny hole in one corner of the bag and stripe the chocolate over the top of the cookies. Allow the chocolate to cool and harden before transferring cookies to a storage container. Store in an airtight container at room temperature for 3-4 days.
Adapted from The Art and Soul of Baking by Cindy Mushet
Notes
Commercial peanut butter works best in this recipe. Natural peanut butter will leave you with a drier, crumblier cookie.
The all-purpose gluten-free flour mix that I use is from Cybele Pascal. It is as follows: 4 cups superfine brown rice flour, 1 1/3 cups potato starch (not flour), 2/3 cup tapioca starch.
Adapted from The Art and Soul of Baking by Cindy Mushet
Note: We are a participant in the Amazon Services LLC Associates Program, an affiliate advertising program designed to provide a means for us to earn fees by linking to Amazon.com and affiliated sites.