These light and fluffy Gluten Free Rhubarb Scones are studded with tart bits of rhubarb. If you like to sweeten things up a bit, feel free to glaze them with a simple icing made of confectioners' sugar and milk.
Ever since I was a young child, I loved rhubarb. My Mom always had a few plants along the edge of her large garden, and when the rhubarb was good for picking, my brother and I would get ourselves a stalk, wash it, fill a small bowl with sugar, dip the end of the rhubarb in the sugar, and enjoy. It was like the garden version of Fun Dip candy.
When we moved into this house nearly 5 years ago, one of the first things added to the garden was a rhubarb plant. One single, lonely red rhubarb plant. The first year when you plant or transplant a rhubarb plant, you are not supposed to harvest from it. So that first year, it just grew stronger, and bigger. The next spring, I was so happy to see the rhubarb poking through the ground. It had survived the winter, and would be ready for picking in a few more weeks.
That rhubarb plant has grown into a nice, strong plant now. I took a piece off of it and started a second plant, and bought a third. For Mother's Day this year my family built me a nice large gardening bed where my three plants can grow and multiply for years to come. Although I can only harvest from one plant this year, I am really looking forward to next year's bounty already. Fresh Rhubarb Crisp is usually the first thing I make when the rhubarb is ready for picking. A few weeks ago, while reminiscing with my Grandma about the large garden she used to have, I asked her what was the first thing she used to make when her rhubarb was ready for picking. She said "Probably Rhubarb Platz". Platz is like a large, flat pie, baked in a shallow baking sheet. Although I haven't gotten around to trying to bake Grandma's platz gluten free yet, I have been enjoying some of my garden's rhubarb in other ways. Like in these scones.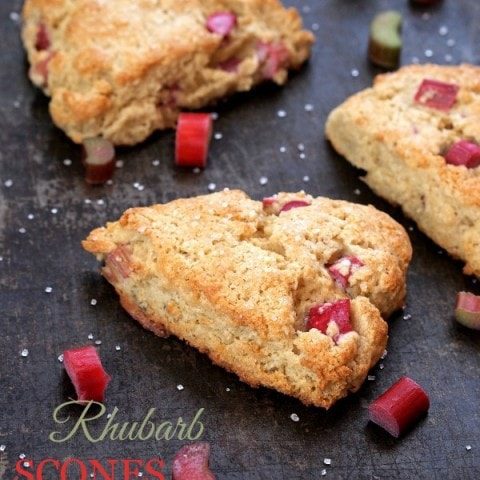 Gluten Free Rhubarb Scones
These scones feature tart rhubarb, they are not overly sweet. If you want a sweeter scone, drizzle the top with a glaze made of 1/2 cup confectioners' sugar and 1 tablespoon milk.
Ingredients
1 1/4 cups (195 grams) brown rice flour
1/4 cup (60 grams) granulated sugar
1/4 cup (30 grams) tapioca starch/flour
2 teaspoons (9 grams) baking powder
2 teaspoons (6 grams) xanthan gum
1 teaspoon (5 grams) baking soda
1/2 teaspoon (5 grams) salt
1/4 teaspoon (1 gram) ground cinnamon
1/2 cup (125 ml) cold butter
1/2 cup (125 ml) sour cream
2 large eggs
1 teaspoon (5 ml) pure vanilla extract
3/4 cup (175 ml) rhubarb, chopped in 1/2-inch pieces
1 tablespoon (15 ml) milk
coarse sugar for sprinkling on top (optional)
Instructions
Preheat the oven to 425 degrees F (220 degrees C). Line a baking sheet with parchment paper, and lightly dust with additional brown rice flour.
In a mixing bowl, whisk together the rice flour, sugar, tapioca starch, baking powder, xanthan gum, baking soda, salt, and cinnamon.
Using a box grater, grate the butter directly into the dry ingredients. You can freeze your butter for a few minutes before hand to make this a little easier. Use your fingers to toss the shredded butter with the dry ingredients, until the butter pieces are about the size of a pea.
Whisk together the sour cream, eggs, and vanilla. Pour over the dry ingredients, and stir with a wooden spoon, just until the mixture comes together. Stir in the rhubarb.Dump onto your prepared baking pan. Dust the top with a little bit more rice flour. Place a sheet of plastic over the dough, and press the dough into a circle, about 10-inches across, and 3/4 - 1" thick.
Remove the plastic wrap, and cut the circle into 8 wedges. Separate the wedges (I used an offset spatula for this), leaving about 2-inches between scones. Brush the tops with milk or cream, and sprinkle with coarse sugar.
Bake in the preheated oven for 13-16 minutes, or until golden brown on top.
Place scones on wire cooling rack to cool. Because the rhubarb is so moist, these scones are best served fresh. The longer they sit, the more the texture changes. Drizzle with glaze if you desire. Store in an air-tight container.
If you have a bounty of rhubarb, here are some other gluten free rhubarb recipes you may enjoy: