Warning: These Gluten Free Teriyaki Chicken Kabobs are so delicious, they may cause your family may fight over the last one.
I've always loved grilled chicken. I also love quick, easy dinners that satisfy the whole family. This recipe perfectly fills all those needs. Since the chicken is cut into chunks, it marinades quickly, and the marinade and glaze that are brushed on make the chicken really juicy. Paired with the already juicy and sweet pineapple, and chunks of green pepper for contrast (and to add some veggies to the diet), these kabobs were a huge hit at our house.
Don't get stuck in a rut this summer grilling the same recipe over and over. Canadian Chicken is a great resource of chicken recipes. With recipes like Chili-Orange Flattened Chicken, Caribbean Chicken, and Garlic Lime Chicken, there is no reason to get bored grilling your chicken this summer. If you're not sure how to do something, or are worried because you don't know how to tell when your chicken is done, you can visit Canadian Chicken's Cooking School for all the answers.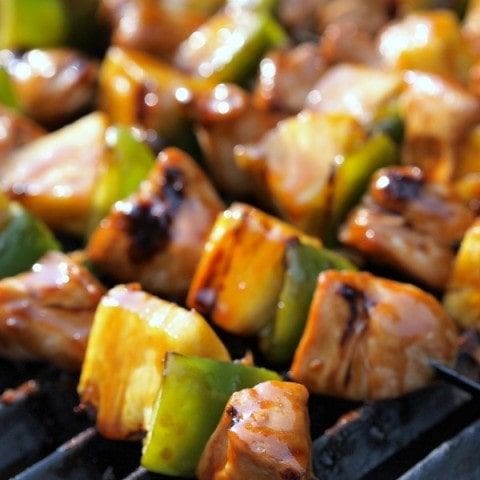 Gluten Free Teriyaki Chicken Kabobs
Yield: 4 servings

Prep Time: 15 minutes

Marinating Time: 1 hour

Grilling Time: 10 minutes

Total Time: 1 hour 25 minutes

Warning: These Gluten Free Teriyaki Chicken Kabobs are so delicious, they may cause your family may fight over the last one.
Ingredients
3 chicken breasts, cut into 1-inch (2.5 cm) pieces (about 1 1/2 lbs or 680 grams)
1/2 cup (125 ml) gluten-free low sodium soy sauce
1/2 cup (125 ml) water
1/2 cup (110 grams) brown sugar, packed
1/3 cup (78 ml) white vinegar
2 tablespoons (30 ml) oil
2 cloves garlic, minced
1 teaspoon (5 ml) onion powder
1/2 teaspoon (2.5 ml) ground ginger
1 tablespoon (15 ml) water
2 teaspoons (10 ml) cornstarch
1 cup (250 ml) fresh pineapple, cut into 3/4-inch (2 cm) pieces
1 medium green pepper, cut into 1-inch (2.5 cm) pieces
Instructions
Place the cut up chicken in a large resealable plastic bag.
Whisk together the soy sauce, water, brown sugar, vinegar, oil, garlic, onion powder, and ground ginger. Pour half of this mixture over the chicken, seal the bag, and refrigerate for at least 1 hour.
Pour the remaining marinade into a small sauce pan, and bring to a boil over medium-high heat.
Stir together the water and cornstarch, and whisk into the boiling sauce. Continue cooking over medium heat until the sauce has thickened, about 2 minutes. Remove from heat and set aside.
Thread chicken, pineapple, and green pepper alternately onto skewers. Discard the remaining marinade.
Lightly grease the grill with oil before preheating it. Preheat to about medium-high heat. Grill the kabobs for 10 minutes, turning at least once to ensure even cooking. Brush the kabobs with the reserved teriyaki sauce during the last few minutes of cooking.
Notes
If you are using wooden skewers, be sure to soak them in water for one hour before assembling the kabobs.
Disclosure: I am participating in the Chicken Farmers of Canada campaign managed by SJ Consulting. I received compensation in exchange for my participation in this campaign. The opinions on this blog are my own.