I never knew that yogurt was so easy to make. When I asked the question on
The Baking Beauties Facebook Page
, I received a number of replies, and none of them said "This is difficult, and expensive, so don't even try it". Instead, they were all similar, a very simple recipe & instructions. My kids & I eat quite a bit of yogurt, and we were paying about $10 per week for our yogurt. Making yogurt this way, is much, much cheaper. It does require you to be at home the day you make it, as it needs some tending to
[Not anymore! See the Notes below for updated method]
, but not that you'd have to stand there and watch it for hour after hour. So, with the experiences that I've had (I've made a few batches), I think that as long as I have time to fit it in, we will definitely be making our own yogurt from now on. The flavour and texture are fantastic, it's cheap, the kids love it, it's very versatile, and cheap. Did I mention that it's cheap? 🙂
This recipe is a compilation of all the recipes that I received on Facebook, and from information I gleaned while looking around at other yogurt recipes. Feel free to play around with it, and make it work for your family.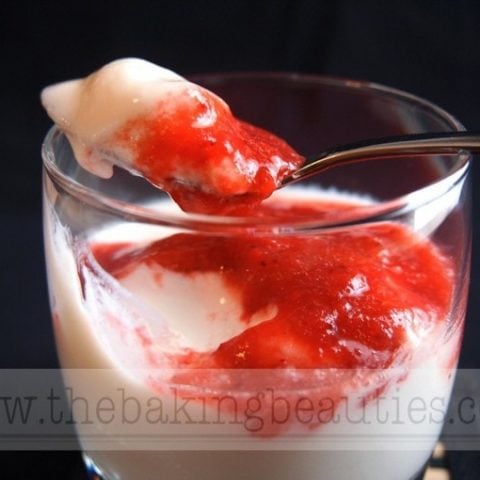 Homemade Yogurt
Things you will need (besides food items): microwave safe bowl, candy thermometer, heating pad, cookie sheet, 2 large bath towels.
Ingredients
2L (8 cups) 3% milk (I've read that you can use any milk...just the end result may vary depending on the milk used)
1/2 cup plain yogurt with live active bacteria (very important, this is your starter)
1/2 cup skim milk powder
4-5 tablespoons liquid honey (optional)
2 vanilla beans, split & scraped (optional, I made mine with a hint of vanilla)
Instructions
Pour your milk in a large microwave safe bowl (I used a Corning Ware casserole dish)
Microwave on high for 10-12 minutes, stir occasionally. Using a candy thermometer to check the temperature, microwave the milk until it reaches 180 degrees F.
Allow the milk to cool on the counter until it has dropped to 110 degrees F. When the milk is 110 degrees F, add the plain yogurt (your starter), powdered milk, and honey and vanilla bean, if you are using.
Now you can either ladle your yogurt into glass jars, or just cover the casserole dish. (if using jars, just put plastic wrap over the top, not the lids)
Place your heating pad on a counter, out of the way. Place the cookie sheet on top of the heating pad. Now place your yogurt container(s) on the cookie sheet. Wrap up in the large bath towels, you want to keep them warm. Turn the heating pad onto low heat (if you have a heating pad that has auto-shut off, you will have to keep checking it, and turning it back on).
Allow yogurt to sit, undisturbed, for 6-7 hours. The longer your yogurt sits, the tangier & thicker it will be. We did not want too much tang, and found 6-7 hours worked well for us.
Place yogurt in the fridge, to cool overnight. The next morning, you can blot the top with paper towels or a clean towel to remove some of the whey, if you want. After cooling overnight, I used a large spoon to transfer my yogurt to plastic containers.
Serve as is, or top with fruit, gluten-free granola, honey, etc.
Update February 6, 2010
The easier Method. After making this yogurt on and off for the past year, I have seen a few different methods of making yogurt, and I have found a new favorite! Instead of placing the yogurt on a heating pad to keep it warm, I place the towel-wrapped casserole dish into a slightly warm oven (I turn my oven on to 100° for 5 minutes, and then turn it off) with the oven light on. Be sure the towel is not touching the oven light, we do not want to start a fire in your oven. Now just leave it for 10-12 hours, and the end result is a beautiful, thick, tangy yogurt that did not require any of your attention. I like to microwave the milk about an hour before bedtime since it takes about one hour for the mixture to cool down to 110°. At that time, I add the rest of the ingredients, wrap it up, put it in the oven and forget about it until the morning. This way my oven is always available during the day. I do like to refrigerate the yogurt before eating it though, so I do not eat it that morning. This is truly, the easiest way to make yogurt, and dare I say, fool proof too.
Update September 12, 2013
We're still making yogurt on a regular basis, and when you make something this often, things just get easier and easier. Here is my routine today: I now use a batter bowl to make my yogurt in. The heavy glass bowl with a handle, spout and plastic cover are perfect for making yogurt in. I microwave 2 liters of milk for 17 minutes (in my microwave), or until it reaches 180 degrees F. I let the milk cool on the counter for 1 hour (or until the temp drops down to 110 degrees F. Add in 3/8 cup granulated sugar, about 1/2 cup yogurt from the last batch, 2-3 tablespoons vanilla, and about 1/2 cup dry milk powder (it works fine without this too, so that's optional). Place the lid on the batter bowl, wrap in a towel, and place in the just-warm oven. Now, forget about it. Well, not totally, you don't want to accidentally turn the oven on with it still in there. I leave it for about 16 hours. Overnight, and then until about lunch the next day. Place in the fridge and serve the next morning. Now, when you scoop out of the batter bowl, start by scooping from the spout area. When you do this, that area will be full of whey the next morning, and you can just simply pour it off. Do this every morning, and by the last few servings of yogurt, you have effortlessly made a greek-style yogurt. Enjoy!
Notes
- The longer you let your yogurt sit on the heating pad, the tangier & thicker your yogurt will be.
- We found that using 2% gave a better texture yogurt than skim milk did.
- Once you have added fruit to the yogurt, it will stop it from setting up properly. It is best to add the fruit right before serving and just stir it in.
- Homemade yogurt will keep well in the fridge for about 7-10 days.
- When you want to make another batch of yogurt, you can use 1/2 cup of the last batch that you made as your starter. I have read that you can use your homemade yogurt as the starter about 5 times, and then it is best to use a new store bought yogurt as the starter.