I hope that you're all doing well in the new year. We had a really good Christmas holiday, straight through to the new year. We had a lot of time with our families, had our nieces & nephew all down for sleepovers (that's 3 extra kids for 2 nights). We've gone sledding, skating (or trying to skate), rented movies & had a lot of really great family time. Unfortunately everyone got sick right at the end of holidays, but that's how it goes, I guess.
Now, after having some time off after our Christmas baking extravaganza, it's time to get back at posting recipes again! Here's one that will ease you back into the kitchen. Rice Chex Muddy Buddies, also called Puppy Chow, is super simple, and takes only minutes from beginning to eating. 🙂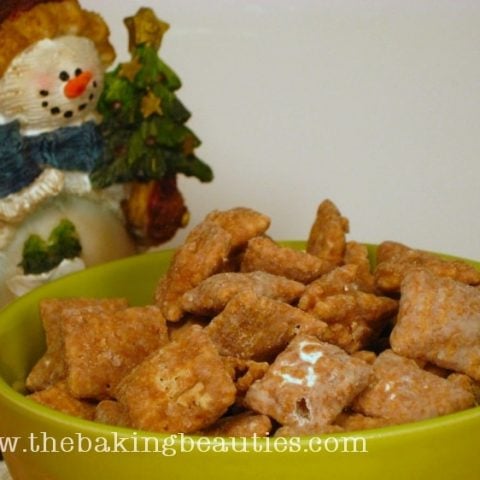 Rice Chex Muddy Buddies
The classic Muddy Buddies, made using Chex cereal.
Ingredients
9 cups Rice Chex® cereal
1 cup semisweet chocolate chips
1/2 cup smooth peanut butter
1/4 cup butter or margarine
1 teaspoon vanilla extract
1 1/2 cups confectioners' (icing) sugar
Instructions
Into large bowl, measure cereal; set aside.
In 1-quart microwavable bowl, microwave chocolate chips, peanut butter and butter uncovered on High 1 minute; stir. Microwave about 30 seconds longer or until mixture can be stirred smooth. Stir in vanilla. Pour mixture over cereal, stirring until evenly coated. Pour into 2-gallon resealable food-storage plastic bag.
Add powdered sugar. Seal bag; shake until well coated. Spread on waxed paper to cool. Store in airtight container in refrigerator.
Notes
Source: General Mills Chex website (or back of box)