There are a lot of different cuts of roast beef, but how do you know which roast to buy? Whether you're looking for the right roast for a quick weeknight dinner, or trying to impress your future in-laws, this guide will help you to make the right decisions at the meat counter.
I recently shared with you how I make Pot Roast using a chuck roast (also called a "cross rib" roast). But, how do you know which roast to buy? What if you have a family of 10 to feed? Or what if you are trying to impress your future in-laws? What if you don't have all day to cook it, or you won't be home in the early afternoon to pop it in the oven so that it will be ready at supper?
Buying the right roast for you, and your situation, can be an overwhelming thing. When you stand in front of that well-stocked meat counter the cuts all sort of look the same. Sure, some are big and some are small. Some are expensive, while others are more affordable. Some have a lot of marbling, others are a solid red. But, which cut is right for you?
To begin with, we have to understand that the different cuts of meat obviously come from different parts of the cow. And different parts of the cow will either be lean and tender, or tough and thick. Those that are tender, will not require a lot of cooking time, but those that are tougher work best with a "slow & low" cooking method (by that, I mean a low temperature for a long time). Today, we're just going to be looking at the roast cuts.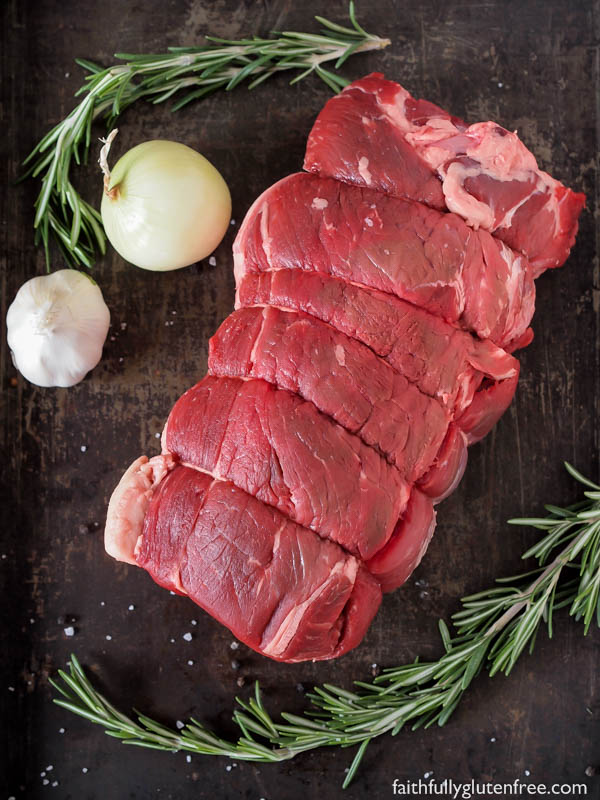 Oven Roasts:
Oven roast cuts are cooked with a dry heat and they do not require any liquids while cooking. For premium oven roasts, look for cuts from the sirloin, loin and rib. These cuts are more expensive, so if you are trying to impress your future in-laws, or hosting the boss for dinner, this may be the cut for you. If you're looking for a recipe to try, this Classic Roast Beef recipe would be the perfect place to start.
Other, more affordable, cuts of beef that work well for oven roasting are cut from the hip area. Look for words like eye of round, inside round, outside round, sirloin tip, bottom sirloin tri-tip, rump, and heel of round.
Pot Roasts:
Pot roasts are cuts of beef that are great when cooked with a moist heat by either braising, pot roasting, or simmering in a liquid. Cuts to look for include blade, cross rib, top blade, bottom blade boneless, brisket and shoulder. I have been making my Slow Cooker Southern BBQ Sandwiches using a cross rib (chuck) roast for over a decade. So good, and cooks up tender over time.
Pot roasts are a great way to serve a family without breaking the bank. While the roast is cooking, it creates delicious gravy that can be served along with the meat, and the leftovers make great hot beef sandwiches. If you won't be home early afternoon to pop it in the oven in time for supper, you can easily cook your pot roast in your slow cooker. Just pop it in the slow cooker in the morning, and at the end of the day you will be met by the welcoming aroma of a hearty supper.
Mini Quick Roasts:
Do you only have a small family, or you are don't have a lot of time to get supper ready? Then the mini quick roasts, which are beef roasts cut to be under 1 lb (500 grams), are perfect for you. Look for words like sirloin tip, eye of the round, outside round, inside round, bottom sirloin, cross rib or top sirloin. Using a dry heat, a mini quick roast can be cooked to medium in less than an hour. Using mini versions of your familiar cuts, you can prepare this Fast Friday-night Beef Roast recipe in less than an hour. Be sure to pick quick cooking vegetables to go with these roasts.
Rotisserie Roasts:
Looking to try something a little different? Why not cook your roast on the BBQ using a rotisserie. Rotisserie roasts are cut so that they will cook up to perfection on the grill. Look for words like sirloin tip, outside round, inside round and cross rib. This Marinated Rotisserie Roast Beef would be perfect to grill up on the weekend.
Whatever cut of beef you prefer, the label on the package of meat should help you identify it's cooking method. For example, top sirloin grilling steak or stewing beef cubes. Hopefully the next time you are standing in front of the meat counter in the grocery store, you won't feel quite as overwhelmed, and a few of these tips will pop into your mind.
If you do feel at a loss with which roast to buy, just talk to the person behind the meat counter, they are usually very knowledgeable and can help you pick the perfect cut of beef for you.
For a lot more great beef buying, cooking, and serving information, check out the Canada Beef website. After spending a few days looking around there, I have to tell you, I am very impressed with the website. It includes a lot of valuable information like how to pick your favorite cut of steak, how to cook a roast perfectly, and also a variety of recipes using any cut of meat.