I know this Creamy Asparagus Soup may not look like much, but it is so delicious. The adults loved it, the kids loved it, what more do you need to make a great soup? This soup did have the asparagus tips in there, but you know what? They sink. So, although they were there, they just didn't want to be photographed. 🙂 With spring being the time for asparagus, I hope you will give this soup a try, I think you'll really enjoy it.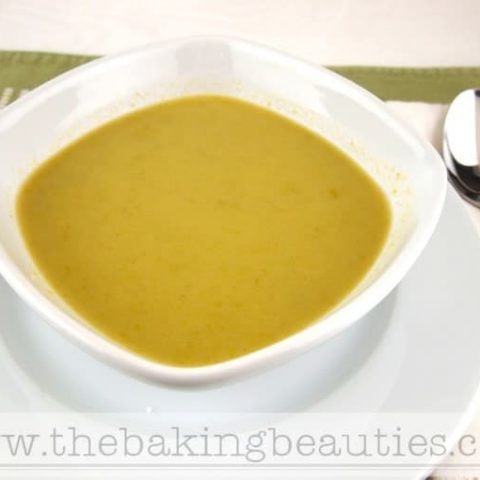 Creamy Asparagus Soup
Ingredients
1 lb green asparagus
1/2 large onion, chopped
1 clove garlic, minced
2 tablespoons olive oil
4 cups gluten-free chicken broth
1/2 cup light sour cream or heavy cream
1/4 taspoon fresh lemon juice, or to taste
1 tablespoon butter
Instructions
Cut tips from asparagus, reserve for garnish.
Cut remaining asparagus into 1/2 inch pieces.
Cook onion in olive oil in a 4-quart heavy bottom pot over medium-low heat, stirring, until softened. Add asparagus pieces and salt and pepper to taste, then cook, stirring, for 5 minutes. Add chicken broth and simmer, covered, until asparagus is very tender, about 15-20 minutes.
While soup simmers, cook reserved asparagus tips in boiling salted water until just tender, 3 to 4 minutes. Drain.
Puree soup in batches in a blender (or use an immersion blender, my choice) until smooth. Return soup to pan.
Stir in sour cream. Season with salt & pepper. Bring soup to a boil and whisk in butter.
Add lemon juice and garnish with asparagus tips.