French Bread. Not only French Bread, but Gluten-Free French bread. For me, this has been like the search for the Holy Grail. After searching for a recipe for it, trying a few, and failing miserably, I didn't think I'd ever have French bread again. Much less, garlic toast.
Then along came that wonderful Gluten-Free Gourmet, a Celiac's hero, Bette Hagman. This woman has many wonderful recipes using different flour mixes, and they produce wonderful results!
This Gluten-free French Bread was a little heavier than store bought French Bread, but we didn't mind. I may not have let it rise long enough, I'm not sure. The flavour was really good, and it even toasted up beautifully under the broiler to make garlic toast. Delicious!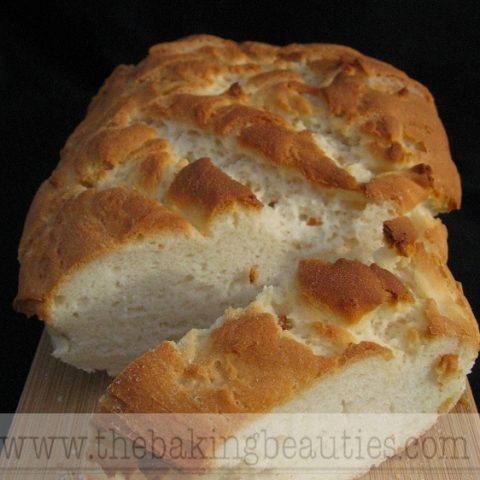 Gluten-free French Bread
Ingredients
3 1/2 cups French Bread/Pizza Mix (see Note)
6 tablespoons dry milk powder
1 teaspoon salt
1 teaspoon baking powder
1 tablespoon rapid rise yeast
3 large egg whites
1 teaspoon apple cider vinegar
3 tablespoons oil
1 1/3 cup warm water
Instructions
Prepare a French bread pan or cookie sheet by greasing and dusting with cornmeal (if desired).
In a bowl of a heavy-duty mixer, combine the dry ingredients (including the yeast). In a small bowl, beat the egg whites, vinegar, and oil slightly with a fork. Add most of the warm water. Add these to the dry ingredients and beat on high for 3 minutes. Check after the first few seconds of mixing to see if more water is needed. The dough should be thick but not dry or forming a ball.
Spoon into the French bread pan or onto the cookie sheet in the shape of a French loaf. If necessary, smooth the top with greased fingers. Cover and let rise about 35 minutes for rapid-rise yeast, and 60-75 minutes for regular yeast.
Bake in a preheated 375 degree oven (Bette's recipe calls for 425 degrees, I found that too warm) for 25-30 minutes, or until nicely browned and the loaf sounds hollow when thumped.
Notes
The French Bread/Pizza Mix is as follows (for 6 cups) 3 1/2 cups white rice flour 2 1/2 cups tapioca starch 2 Tbsp Xanthan gum 2 (7-gram) packets unflavoured gelatin 2 Tbsp egg replacer 1/4 cup sugar
Disclosure: 
We are a participant in the Amazon Services LLC Associates Program, an affiliate advertising program designed to provide a means for us to earn fees by linking to Amazon.com and affiliated sites.