The celebration continues! Nope, it's still not my birthday, but I wanted to make another batch of these Gluten Free Confetti Cupcakes with Cocoa Whipped Cream Icing so I could share them with you. The first time I made them, I over-baked them. So, those were suitable for consumption, but not pictures. Again…the things I do for you guys! (wink) Another batch was in the oven, and we enjoyed them yesterday (along with the first wiener roast of the season, beautiful weather for March so far).
If you have kids, this is a MUST MAKE recipe for you! Make these for their birthday parties, and no one will ever know they are eating gluten free. They do have a slight Angel Food cake flavour to them, which is really delicious. The crumb is really good as well, and the colourful dots throughout are just plain fun (for the young and the young at heart). The coloured sprinkles dissolve while baking, leaving only the little dots of colour.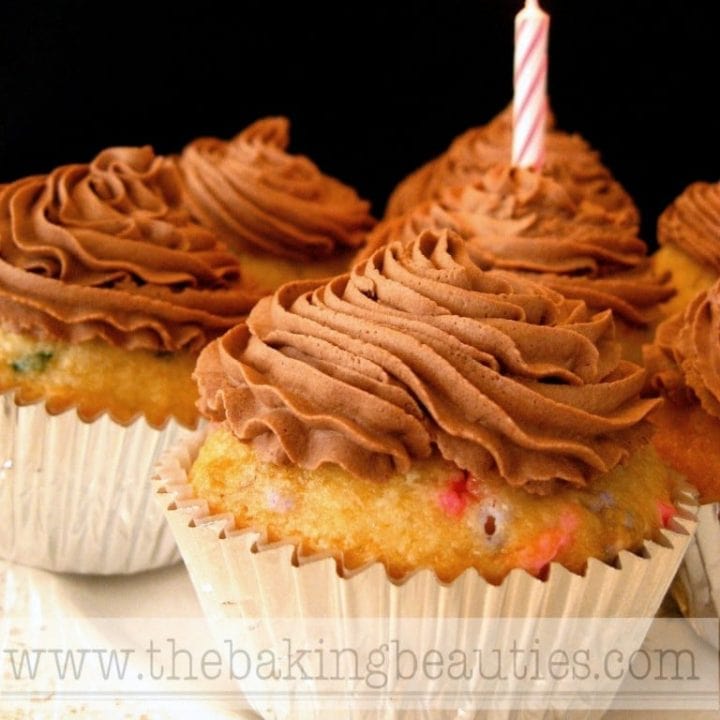 Gluten Free Confetti Cupcakes with Cocoa Whipped Cream Icing
Ingredients
Confetti Cupcakes
2 large eggs
1/3 cup milk
1 teaspoon vanilla extract
1/4 teaspoon almond extract
6 tablespoons canola oil
1/2 cup white rice flour
1/3 cup plus 1 Tbsp tapioca starch
1/3 cup potato starch
1/4 teaspoon xanthan gum
3/4 cup granulated sugar
1/2 teaspoon salt
1 1/2 teaspoons baking powder
2 tablespoons rainbow sprinkles (check to make sure they are gluten free)
Cocoa Whipped Cream Icing
1/2 cup heavy whipping cream, whipped
2 Tbsp confectioners' sugar
1/2 tsp vanilla extract
1 Tbsp cocoa powder
Instructions
Confetti Cupcakes
Preheat oven to 350 degrees F.
Prepare muffin pan (I lined mine with papers, and had absolutely no sticking).
In a small bowl combine eggs, milk, extracts, and oil. Mix. Set aside.
In a medium/large bowl, combine white rice flour, tapioca starch, potato starch, xanthan gum, sugar, salt & baking powder. Stir to mix well.
Stir the wet ingredients into the dry ingredients, mixing only until combined. Gently stir in sprinkles (so they don't dissolve).
Scoop into prepared muffin tins. Bake in preheated oven for 18-20 minutes, or until toothpick inserted into the middle of a cupcake comes out clean.
Let pan cool on a wire rack for 10 minute. Remove cupcakes from muffin tin.
Cool & frost as desired.
Cocoa Whipped Cream Icing
Beat cream until slightly thickened.
Gradually add the sugar, vanilla and cocoa. Beat until stiff peaks form.