These soft white Gluten Free Cream Cookies are a must during the holidays. They are based off of an old Mennonite recipe, so they are just like the ones Grandma used to make.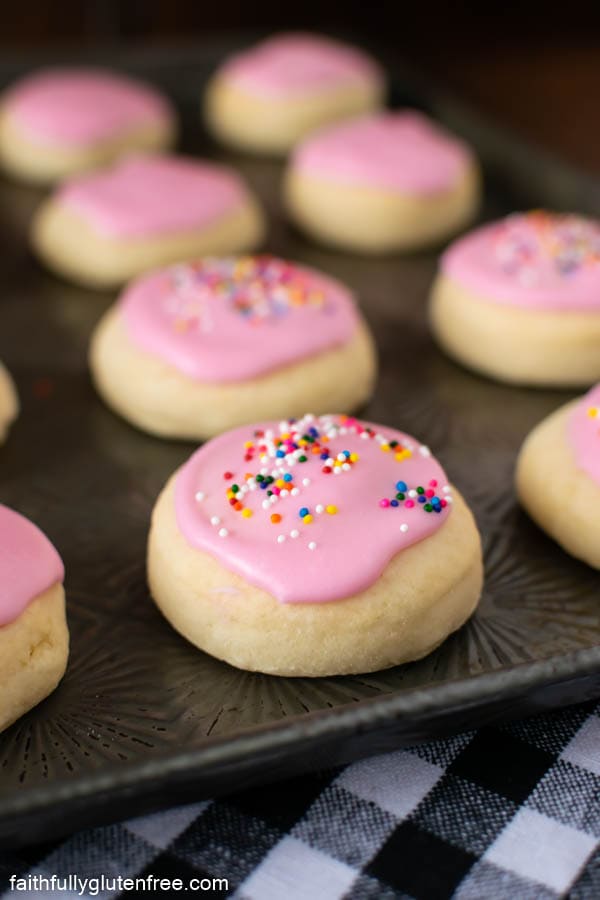 In my pre-celiac days, Cream Cookies were always a part of our holiday baking. Just like the gluten-filled version, these gluten free soft white cookies are light and tender. They are not a very sweet cookie, but they have a faint vanilla flavour.
You have probably seen cream cookies at the grocery stores quite regularly. They are usually a plain round cookie covered in sprinkles to go with whatever season we are in. Black and orange for Halloween. Red and Green for Christmas. Pink and yellow for Easter. They really can be enjoyed year round. A lot of people refer to the cookies in the store simply as "soft white cookies".
Gluten Free Cream Cookie Dough:
The dough for these gluten free Cream Cookies is very soft. It does require refrigeration after you mix it – at least 3 hours to overnight.
Refrigerating it does a few things to the dough. It helps the dough firm up a little bit, and it also allows the flours and starches to absorb some of the moisture, giving you a cookie with a great texture.
Since the dough is so soft, I recommend rolling the dough out between sheets of plastic wrap. To help the plastic wrap stay stuck to the counter, wipe it with a wet cloth before placing the plastic wrap down. Press out the air bubbles, and the plastic won't move around on you.
I also sprinkle some extra brown rice flour down when rolling out the dough. Not so much that the cookies are covered in flour, just enough that they aren't sticking.
Drop Cookies or Rolled Cookies:
As mentioned, the dough is quite soft. It does work to roll the dough out and use cookie cutters, but you can also use a cookie scoop to form balls of dough. Using the bottom of a clean measuring cup or glass, press each ball down to just over 1/4-inch before baking.
If you do use cookie cutters, I would suggest just using a simple round cutter. This dough is very soft, and the cookies do grow quite a bit when baking, so any fine detail would be lost during baking. If you want a cookie that keeps its shape while baking, try these Gluten Free Rolled Sugar Cookies or Gluten Free Chocolate Sugar Cookies.
All Purpose Flour Blend:
As most of you know, I use individual flours and starches in my baking. This allows me to control the exact outcome of the recipe based on the combination of flours and ratios that I use.
Every brand of all purpose gluten free flour is made up of different amounts of flours, starches, and xanthan gum. If you bake with an all purpose blend, you know that. You've probably bought some that worked great, and some that didn't work or taste so great.
If you bake using individual flours and starches, the outcome will be exactly like my gluten free Cream Cookies. You are welcome to use an all-purpose blend, but then I can't guarantee the recipe will work the same.
More Gluten Free Cookies you'll love:
Gluten Free Cream Cookies
Total Time:
3 hours
45 minutes
A very soft, light cookie with a hint of vanilla, just like Grandma used to make. Traditionally topped with icing and sprinkles or coconut.
Ingredients
1/2 cup unsalted butter, softened
1 cup granulated sugar
2 large eggs
1 cup heavy cream
2 teaspoons pure vanilla extract
1 3/4 cup brown rice flour (plus extra for rolling)
3/4 cup potato starch
1/2 cup tapioca starch
1/4 cup cornstarch
4 teaspoons baking powder
2 teaspoons xanthan gum
1/2 teaspoon salt
Instructions
In the bowl of a stand mixer, beat the butter and sugar together until fully incorporated. Add the eggs, and beat until they are mixed in. Slowly add the cream and vanilla, scraping down the bowl and mixing it until no lumps remain.
In a separate bowl, whisk together the remaining ingredients.
Mix the dry ingredients into the cream mixture. Be sure to run the mixer until all the flour mixture is incorporated.
Cover and refrigerate for 3 hours, or overnight.
Preheat oven to 350 degrees F and line your baking sheets with parchment paper.
Between two sheets of plastic wrap, roll the cookie dough out until it is just over 1/4-inch thick. Sprinkle the plastic wrap and the dough with a little extra rice flour to keep the dough from sticking. It might be easier to work with half of the dough at a time. It is alright to incorporate a little extra flour to the dough while rolling, but too much will give you a tougher cookie in the end. Try to use as little as possible, but do enough so that you can roll it out.
Cut out cookies using a cookie cutter (I used a 2-inch circle), and place cookies on prepared baking sheet, leaving 2-inches between cookies. The scraps can be formed into a ball and re-rolled without any issues. Continue doing this until you have used all the dough.
Bake in preheated oven for 10-12 minutes, or until the cookies are lightly browned on the bottom, but the tops are still white.
Let cookies sit for a few minutes on the baking sheet before removing to a wire cooling rack.
Store cooled cookies in an air-tight container with waxed paper or parchment paper between the layers.
Notes
ICING:
I made a simple icing of 2 tablespoons melted butter, 2 cups confectioners' sugar, 1 teaspoon clear vanilla, and enough hot tap water to make it the right consistency.
You can frost them before storing them, but you need to let the cookies sit out on the counter for a few hours to allow the icing to dry first.
TO MAKE DROP COOKIES:
To make cream cookies as drop cookies, form dough balls of about 2 tablespoons using a small cookie scoop or spoon. Place the dough on the cookie sheet, and flatten until just over 1/4-inch thick with the bottom of a glass or measuring cup. Bake the same as the cut out cookies.
Recommended Products
Disclosure: We are a participant in the Amazon Services LLC Associates Program, an affiliate advertising program designed to provide a means for us to earn fees by linking to Amazon.com and affiliated sites.
Pin it for later!
Don't forget to save and pin this recipe for Gluten Free Cream Cookies to your gluten free cookies file. If you need more inspiration, check out my Gluten Free Cookies Pinterest board.
NOTE: A gluten free cream cookie recipe was shared in January, 2011. That recipe has been removed and updated. This current recipe is much better. Trust me.