No better way to round out our gluten-free Chinese "take-out" than with Gluten Free Lemon Chicken. This dish was super simple to prepare as well, and tasted fantastic. If gluten isn't a problem for you, replace the rice flour with all purpose flour. You won't be disappointed!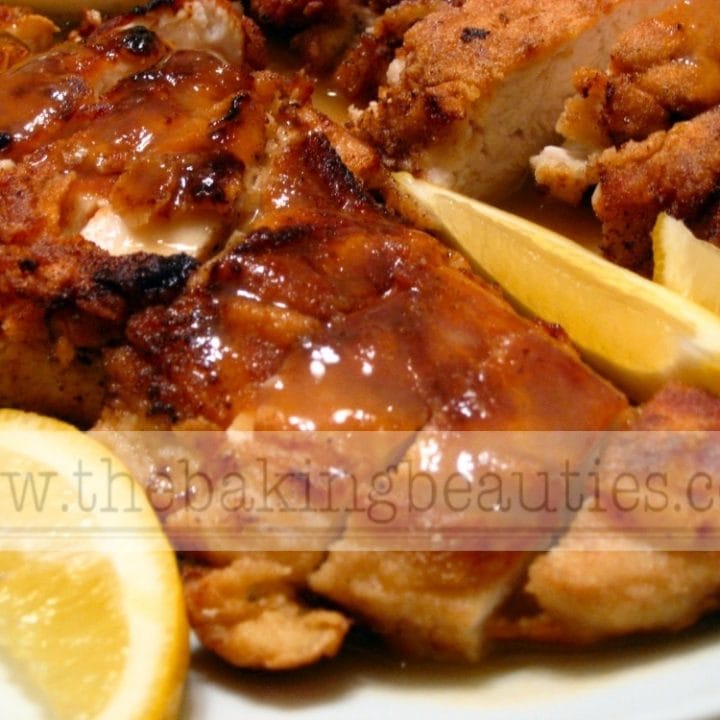 Gluten Free Lemon Chicken
There is no better way to round out our gluten-free Chinese "take-out" nights than with this Gluten Free Lemon Chicken
Ingredients
4 single chicken breast fillets
2 egg whites, lightly beaten
1/2 cup brown rice flour
2 tablespoons butter
2 tablespoons vegetable oil
1 1/2 tablespoons cornstarch
1 1/4 tablespoons brown sugar
1/2 cup lemon juice
1/2 teaspoon grated ginger
1 teaspoon gluten-free soy sauce
1 cup gluten-free chicken stock
Instructions
Using a meat mallet or your rolling pin, gently pound the chicken between sheets of cling-wrap until 1cm thick.
Dip chicken in the beaten egg white and then coat in the rice flour. Shake off any excess flour.
Heat the butter and oil in a large frypan. Cook chicken until lightly browned on both sides and cooked through. Drain on absorbent kitchen paper.
Meanwhile- blend the cornstarch, brown sugar and the lemon juice in a small saucepan. Add the grated ginger, soy sauce and the stock. Bring the sauce to the boil and stir constantly until the sauce thickens.
Slice the chicken,serve drizzled with the sauce and some extra lemon wedges or slices.