Today is National Doughnut Day. It's a true thing. It's been happening for over 75 years, and was created by The Salvation Army to honour the men and women who would serve doughnuts to the soldiers during WWI. Although the original intent behind Doughnut Day may be forgotten, the fact that it is national doughnut day is not missed in today's society. Just check Twitter and Instagram where #nationaldoughnutday has been trending since first thing this morning.
At the last minute, I decided to create, bake, photograph, and post a new doughnut recipe before picking the kids up for school. So far, I'm on track, I have a few minutes to go before picking them up. 🙂
Why did I decide on these gluten free Maple Walnut Doughnuts? Well, I've had them on my mind for a LONG time. The few times I would splurge on a doughnut at the local doughnut shop, in my pre gluten-free days, I would get a maple walnut doughnut. I think it's very Canadian as well. Now I can enjoy them anytime I want, in about 30 minutes or less.
Tools to make this recipe easy: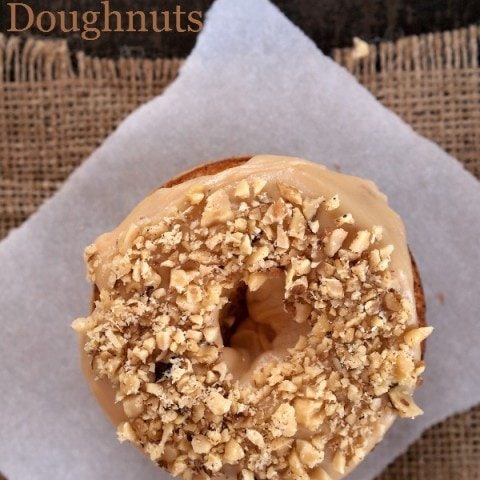 Gluten Free Maple Walnut Doughnuts
These gluten free Maple Walnut Doughnuts are very Canadian, eh? Nothing says Canadian flavour like the combination of maple and walnuts.
Ingredients
Maple Doughnuts
2/3 cup brown rice flour
1/3 cup granulated sugar
1/4 cup tapioca starch
2 tablespoons dry milk powder (or almond flour)
1 teaspoon baking powder
1/2 teaspoon xanthan gum
1/4 teaspoon salt
1/4 cup milk
1/4 cup oil
2 large eggs
1 teaspoon pure maple extract
1 teaspoon vanilla extract
Maple Glaze
2 tablespoons milk
1 tablespoon butter
1 teaspoon pure maple extract
1- 1 1/4 cup confectioners' (icing) sugar
1/4 cup finely chopped walnuts (to top doughnuts)
Instructions
Maple Doughnuts:
Preheat oven to 375 degrees F. Lightly grease your doughnut pan.
In a mixing bowl, whisk together the rice flour, sugar, tapioca starch, dry milk powder, baking powder, xanthan gum, and salt. Set aside.
In a separate mixing bowl, whisk together the milk, oil, eggs, maple extract, and vanilla extract. Pour this mixture into the dry ingredients, and stir to combine.
Spoon the batter into a large resealable bag. Cut a hole in one of the corners of the bag, and pipe the batter into the prepared doughnut pan.
Bake in preheated oven for 10-12 minutes, or until the top of the doughnut bounces back when gently pressed on.
Let the doughnuts sit in the pan for 5 minutes before removing them to a wire cooling rack.
Maple Glaze:
While the doughnuts are baking, heat the milk and butter in a small saucepan over low heat until warm. Add the maple extract and stir to combine.
Stir in the confectioners' sugar. Turn the element off, but keep the glaze warm. You may have to stir it frequently so that it doesn't crust over on top.
Spoon the warm glaze over the warm doughnuts. Sprinkle with chopped walnuts immediately Allow to sit for a few minutes for the glaze to set. Serve and enjoy! Store any leftovers in an air-tight container. Unglazed doughnuts can be frozen.
Disclosure: We are a participant in the Amazon Services LLC Associates Program, an affiliate advertising program designed to provide a means for us to earn fees by linking to Amazon.com and affiliated sites.