Wrap your hands around these warm, soft, pliable Gluten Free Pita Bread filled with salad, falafels, or gyros.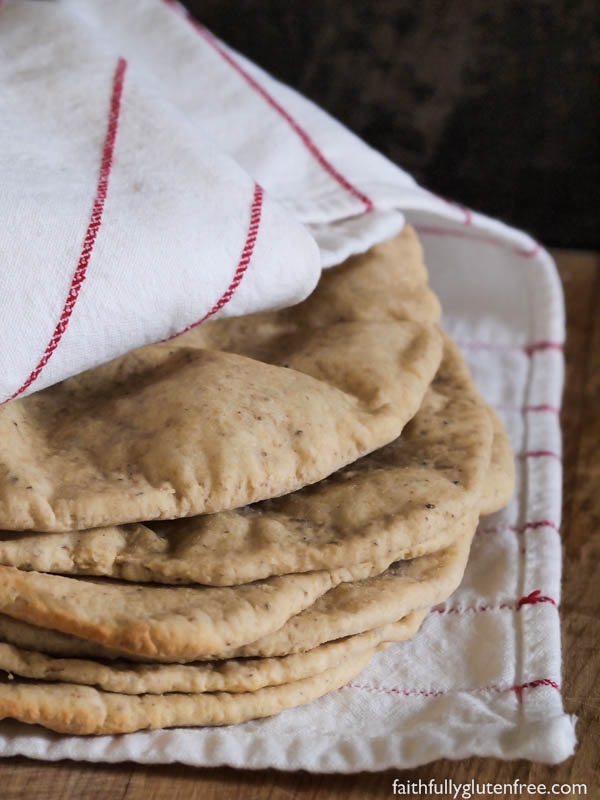 I am very excited to share with you that from now until September, I will be a brand ambassador for Avena Foods. What is Avena Foods, you might be wondering? If you're in Canada, you may recognize the name on their packaging – Only Oats.
Located in the heart of the prairies, Saskatchewan, Avena Foods is a major producer of  wheat-free oats and oat products. Whether you're looking to add steel cut, old fashioned rolled, or quick cook oats to your gluten free diet, they have it all. In addition to their line of oats, they also have a line of ready-to-bake mixes like pancake mix, oatmeal cookie mix, cinnamon spice muffin mix, and decadent chocolate muffins (who are we kidding – those are cupcakes).
This recipe was developed as part of my partnership with Avena Foods.
When I was newly diagnosed with celiac disease 6 years ago, I was saddened to learn that regular, commercially produced oats were off the list. Even though oats themselves do not contain gluten, through the growing and manufacturing process, the oats were contaminated with gluten.
A few months into my gluten-free life, while browsing the internet, I learned of Only Oats. At the time, gluten free products were not as readily available as they are now, you couldn't just go to store and pick up a package of gluten-free oats. They were having a sale – free shipping on orders over $50 – and I quickly placed an order. Being able to add oats back into my diet was a huge blessing. After all, oatmeal chocolate chip cookies just aren't the same without them!
There's no need for you to order oats online anymore – purchasing Only Oats products has become as easy as going to your nearest health food store or  Bulk Barn. Looking to save some money? Here's a tip – Bulk Barn often has a coupon for $3 off a $10 purchase. Even if you don't feel safe buying their bulk flours, you can purchase the pre-packaged Only Oats products there, and save some money while doing it!
Can I eat oats if I have celiac disease?
If you are diagnosed with celiac disease, can you eat oats? According to the Canadian Celiac Association, Yes!  However, there is a small fraction of those that have been diagnosed with celiac disease that can not tolerate even pure oats.  If you haven't tried eating gluten free oats after going on a gluten free diet, introducing them to your diet gradually may be a better fit than cooking yourself a bit pot of oatmeal.
In the US, the Food and Drug Administration allows oats can be certified as "gluten free". In Canada, however, the Canadian Food Inspection Agency does not currently define pure oats as being gluten free. That being said, Avena Foods oat products are tested using the R5-ELISA test, and the oats test at under 5 ppm (which is considered undetectable and safe for those with celiac disease).
Benefits of adding oats to your diet.
Adding oats to your diet can be very beneficial. Oats have been proven to:
lower bad cholesterol
lower the risk of heart disease
help regulate your blood sugar
keep you regular
be a great source of iron and plant protein
See for yourself how oat flour compares to other gluten free flours.
Not to mention, oat flour also helps improve the flavour, texture, and moisture of gluten free baked goods. That's one of the reasons I decided to use it to make gluten free pita bread. I hadn't had pita bread since going gluten free. Even with all the new products that I've seen come into the stores, I haven't even seen a gluten free pita.
This pita bread is soft, pliable, and perfect to wrap around a salad, falafel, or gyro. The pita puffs up beautifully when baking too, giving you a full pocket that you can fill, but I did find the pocket walls to be a bit thin, sometimes resulting in a torn pocket.
Like all home-baked goods, these are best served fresh and warm. You can reheat them by wrapping them in a damp paper towel before microwaving it for a few seconds.
Gluten Free Pita Bread
Rising Time:
1 hour
30 minutes
Total Time:
3 hours
37 minutes
The secret to getting the pita to puff is having a very hot oven, with a preheated baking surface. Wrap the baked pitas in a clean towel to keep them soft.
Ingredients
1 1/4 cup Only Oats pure whole grain oat flour
1/2 cup potato starch
1/3 cup cornstarch
1/3 cup tapioca starch
2 tablespoons psyllium husk powder
1 tablespoon ground chia seed
1 tablespoon rapid rise yeast
1 teaspoon granulated sugar
1 teaspoon salt
1 cup warm milk
1 large egg, room temperature
1/4 cup oil
1 teaspoon apple cider vinegar
rice flour, for rolling
Instructions
Measure the oat flour, potato starch, cornstarch, tapioca starch, psyllium husk powder, ground chia seed, yeast, sugar, and salt into the bowl of a stand mixer. Whisk to combine.
Whisk together the milk, egg, oil, and vinegar.
Add the wet ingredients to the dry ingredients, and mix on medium/low speed for 5 minutes. This allows the psyllium husk powder and chia seed to absorb the liquid, and the dough to thicken.
Line 3 baking sheets with parchment paper.
Divide the dough into 6 pieces, each being just bigger than a golf ball. Lightly flour the counter with rice flour, and sprinkle a little flour on top of the dough. Roll the dough into a 6-inch circle, turning frequently so that it doesn't stick to the counter. Place rolled out dough on the prepared baking sheet. Repeat until you have 6 pitas (2 pitas per sheet).
Lightly cover the pitas with plastic wrap and let sit on the counter for 1 to 1 1/2 hours.
Place a heavy baking sheet or a pizza stone in the oven and preheat the oven to 450 degrees F. Having a very hot oven is very important, it is what will make the pitas puff up while baking.
Spray two pitas with water, slide out the oven rack, and carefully place them on the hot baking sheet/stone. Close the door and let the pitas bake for 5-7 minutes, or until they are puffed up and lightly browned.
Carefully remove the pitas from the oven and place them in a clean, dry tea towel, covering them. This will help the pita bread to stay soft.
Repeat with the remaining 4 pitas, letting the oven heat up a few minutes between batches.
Best served fresh and warm.
Psyllium Husk Powder
  and
Ground Chia Seeds
can both be purchased at health food stores or on Amazon. If you are only able to find psyllium husk, you can grind it finer using a coffee grinder.
Disclosure: I received compensation in exchange for my participation in this campaign. The opinions on this blog are my own. We are a participant in the Amazon Services LLC Associates Program, an affiliate advertising program designed to provide a means for us to earn fees by linking to Amazon.com and affiliated sites.