I love this blog. I have met so many wonderful people through blogging. I've met other bloggers (what a great community we have here on the World Wide Web), and fantastic readers that are getting excited about the potential that their kitchen holds for them. Some were feeling overwhelmed, beaten down, or discouraged with their gluten-free diet, but after looking through the recipes here, and on other blogs, they have become more adventurous in the kitchen, and have taken on converting some of their favorite recipes to gluten-free themselves. This recipe is the result of just that.
My friend Aine came up with this recipe for Real Honest to Goodness Gluten-free Egg Noodles, and I have to say, it is a winner! You can roll the dough out by hand, and cut it into whatever pasta you want, but I found that it also works quite well to put through my pasta roller, and I made fine noodles for chicken noodle soup. Oh My Goodness. I can't tell you how glad I was to have a bowl of chicken noodle soup…with noodles. I've added brown rice, or just left the noodles out in the past, but when I made these noodles, the whole family enjoyed the warm embrace of homemade chicken noodle soup. There is not much else that can make everyone feel warm and cozy as homemade chicken noodle soup. Thank you Aine for sharing this recipe with me, and now my readers. I know others will benefit from this recipe as well. 🙂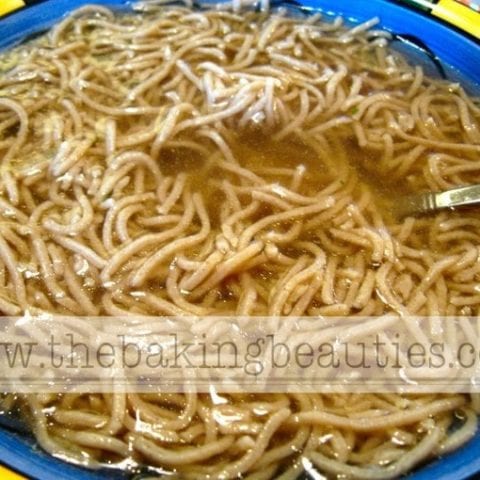 Aine's Real Honest to Goodness Gluten-free Egg Noodles
Recipe courtesy of "The Baking Beauties" reader, Aine Olson.
Ingredients
2 cups gluten free all-purpose flour blend (see note)
1/2-3/4 cup garbanzo bean flour
1/2-3/4 cup sorghum flour
6 teaspoons xanthan gum
1 1/2 teaspoons salt
6 large eggs
6 tablespoons oil
potato starch (for rolling)
Instructions
Mix all dry ingredients.
Put in the hopper of a food processor with dough mixing blade. Add eggs and oil. Blend all ingredients well. Mix as long as you can until the dough pulls away from the sides and is elastic, or until your food processor's motor protests, whichever comes first.
Dust your board with potato starch. Plop the glob of dough out on it, then turn it over to coat both sides. Knead to make sure all is the right texture and that there are no unmixed areas. Dough needs to be elastic and flexible.
Roll out to the thickness you wish for your recipe (using a noodle machine works well, just work with small pieces of dough).
Drop into boiling water, they cook quite fast. Drain & rise before using in your recipe.
Notes
4 cups superfine brown rice flour, 1 1/3 cups potato starch (not flour), 2/3 cup tapioca starch. Combine all ingredients in a large zipper-top bag. Shake until well blended.