Let me tell you, Manitoba has had a beautiful summer so far. Many days in a row we've hit 30°C (which is about 85°F), the humidity hasn't been too bad, and since we re-finished our deck last month, we've spent many, many hours outside. Eating all of our meals out there, reading, and just relaxing. It's been fantastic. When you see the kids kicked back in a chair or the hammock, feet up and reading a book, how can you think this summer is anything but perfect.
A few weeks ago my daughter & I had a mother-daughter shopping trip. Nothing fancy – we went to the hardware store to pick up some lights, picked up a few other things in the city that we can't get here, and stopped at the food court for a quick lunch. But, she had a fantastic time, telling me it was the best shopping trip ever, and that we should that more often. She's easy to please. On the way home I treated us to some frozen lemonades, which were much appreciated since the car's air conditioning isn't working, and the sun had decided to come out and make it another 30°C day. It was refreshing, and hit the spot.
The following weekend we were all outside, relaxing and reading on the deck and I thought of those frozen lemonades again. How simple wouldn't that be to recreate at home. Plus, you know exactly what is in them, since you have complete control over it. Since I also had some raspberries at home, I decided to try my hand at Frozen Raspberry Lemonade. So good. So refreshing. And so easy to make.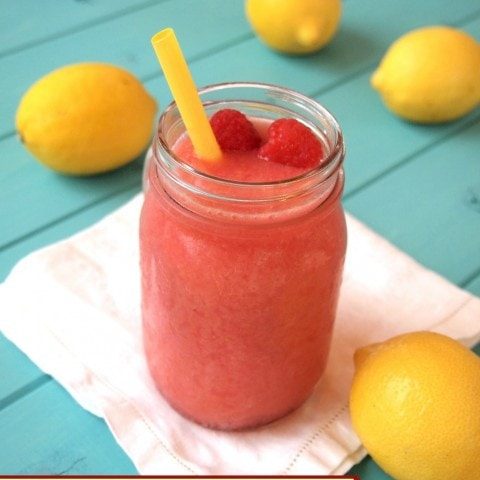 Frozen Raspberry Lemonade
Keep cool this summer with this tangy Lemonade. Alter to sugar to suit your tastes.
Ingredients
Juice of 2 large lemons (about 1/2 cup)
1/3 - 1/2 cup granulated sugar
1/2 cup raspberries, rinsed
1/2 cup water
3 cups ice cubes
Instructions
Place the lemon juice, sugar, raspberries, and water into a blender, and blend to puree, about 2 minutes, until the mixture is smooth, and the sugar is dissolved. You can strain it at this point, if you want to remove the raspberry seeds, but I just left them.
Add the ice, and pulse until no ice chunks remain.
Pour into chilled cups, add a straw, sit back, and enjoy.
Love Lemon?

Try these other gluten-free lemon recipes.

Gluten-free Lemon Meringue Cupcakes

Gluten-free Layered Lemon Cake

Gluten-free Baked Lemon Doughnuts

Gluten-free Lemon Poppy Seed Muffins

NOTE: We are a participant in the Amazon Services LLC Associates Program, an affiliate advertising program designed to provide a means for us to earn fees by linking to Amazon.com and affiliated sites.