This Gluten free Cranberry and Orange Loaf is good. This loaf is so good, my gluten-eating family devours it, even though it is gluten free. The tartness of the fresh cranberries, the crunch of the pecans, and the fantastic orange flavour that comes through, should definitely send you to the supermarket to get the ingredients. You will not be disappointed! I haven't tried making these into muffins yet, but I think they'd work well for that too.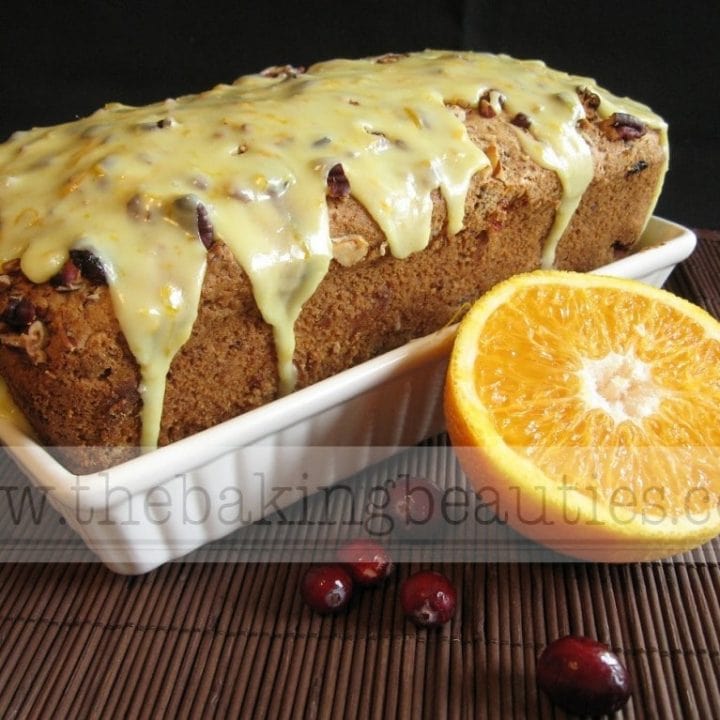 Gluten Free Cranberry Orange Loaf
Ingredients
1 1/2 cups featherlight flour mix (see note)
1/2 cup sorghum flour
1 teaspoon xanthan gum
1/2 taespoon baking soda
2 taespoons baking powder
1/2 teaspoon salt
1 tablespoon grated orange zest (I did from one orange)
1 1/2 cups fresh cranberries
1/2 cup pecans, coarsely chopped
1/4 cup margarine, softened
1 cup granulated sugar
1 large egg
3/4 cup orange juice
For Glaze (optional):
Zest of 1/2 orange
2-3 Tbsp orange juice
enough icing sugar to make a slightly thick pourable icing
Instructions
Preheat the oven to 350 degrees F. Grease and flour (with sweet rice flour) a 9x5 loaf pan.
In a mixing bowl, whisk together the flours, xanthan gum, baking powder, baking soda, and salt. Stir in orange zest, cranberries and pecans. Set aside.
In a large bowl, cream together margarine, sugar and egg until smooth. Stir in orange juice. Beat in flour mixture until just moistened. Pour into prepared pan.
Bake for 50-60 minutes in the preheated oven, or until the bread springs back when lightly touched. Let stand 10 minutes, then turn out onto a wire cooling rack.
Once cooled, top with the glaze (optional), let dry, and wrap in plastic wrap.
Notes
The featherlight flour mix that I use is from Bette Hagman. It is as follows: 3 cups rice flour, 3 cups tapioca starch, 3 cups cornstarch, 3 tablespoons potato flour.