I wish you could smell the aroma of this gluten free Oatmeal Cinnamon Raisin Bread baking. I love this fresh bread – with cinnamon, oats, and studded with plump raisins – smothered with butter and sprinkled with cinnamon and sugar. Yum!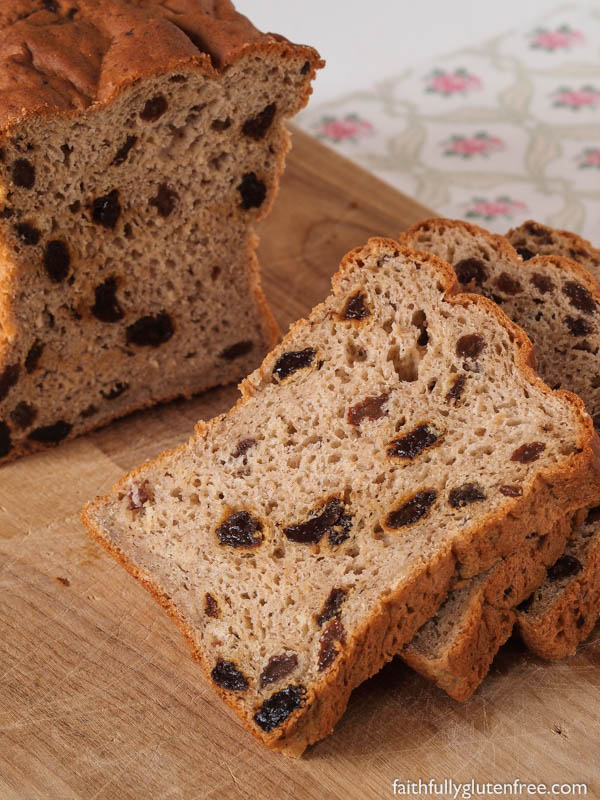 The first thing I thought of when I was diagnosed with Celiac Disease is how I would never have bread be a part of my life anymore. The truth is, bread can still be a part of your life. Sometimes to get a really good bread though – you have to learn to make it yourself.
I loved raisin bread before being diagnosed. I had never baked any from scratch before having to eat gluten free, so I had to do some research to try to re-create this recipe. After a little researching, and some testing, I'm thrilled with how this gluten free Oatmeal Cinnamon Raisin Bread turned out.
This loaf isn't dry or "fall apart" like a lot of store-bought breads. It is moist and not at all crumbly. Properly wrapped in plastic or a zipper seal bag, this gluten free Raisin Bread stays fresh on the counter for up to 3 days. It also toasts up beautifully – my favourite way to eat it is toasted with some butter and a light sprinkling of cinnamon and sugar.
I baked this loaf in my 9″x4″ Pullman Pan, I just didn't put the lid on it since the dough rose to the top of the pan before baking. But I really like the shape of loaf that the Pullman pan gives – a nice tall loaf with straight sides.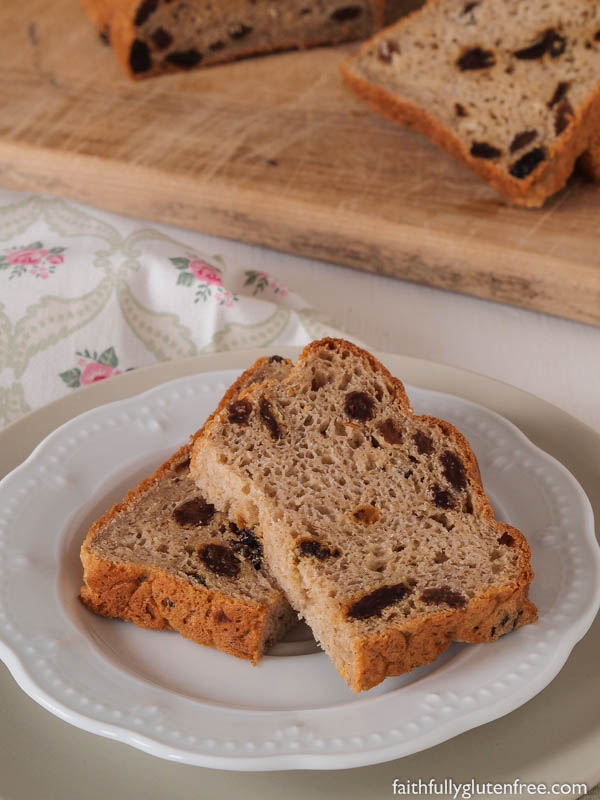 Tips for baking the perfect gluten free Oatmeal Cinnamon Raisin Bread:
Be sure to grease your pan, and line with parchment paper, to ensure your loaf comes out of the pan easily.
Take the time to soak the oats and raisins before adding them to the loaf. Otherwise, they will both steal moisture from the bread dough instead of adding moisture.
Give your loaf enough time to rise before baking. I find 25-30 minutes in a warm, draft-free area works best.
When baking bread, bake it the amount listed in the recipe, but also be sure to check the internal temperature of the loaf with an instant read thermometer. Your bread should read 200 degrees F for it to be done. Any less, and your loaf will sink after you remove it from the oven.
Gluten Free Oatmeal Cinnamon Raisin Bread
Total Time:
1 hour
20 minutes
Gluten free Oatmeal Cinnamon Raisin Bread - with cinnamon, oats, and studded with plump raisins. Yum!
Ingredients
1/2 cup certified gluten free rolled oats
1 cup raisins
Wet Ingredients:
3/4 - 1 cup warm water (start with 3/4 cup and add up to 1/4 cup if necessary)
2 tablespoons granulated sugar
1 tablespoon rapid rise yeast
2 teaspoons apple cider vinegar
2 tablespoons oil
2 large eggs
2 egg whites
Dry Ingredients:
1 cup brown rice flour
1/2 cup potato starch
1/2 cup tapioca starch
1/4 cup milk powder
2 1/2 teaspoons xanthan gum
2 teaspoons ground cinnamon
1 teaspoon salt
Instructions
Grease a 9"x4" (or 9"x5") bread pan with butter or coconut oil. Set aside.
Place oats & raisins in a bowl and cover with hot water. Set aside and let soak for 10 minutes. Drain water using a sieve or strainer. It is Ok if it is still wet, you just don't want any puddles in the mixture.
In a small mixing bowl, combine water, sugar & yeast. Stir and let sit until foamy on top. Then add the cider vinegar, vegetable oil, eggs and egg whites.
In the bowl of a stand mixer, combine all dry ingredients together. Mix until evenly combined.
Add the soaked oats & raisins to the dry ingredients. Turn the mixer (with the paddle attachment) on low speed, and slowly add the wet ingredients. Once combined, scrape down the sides of the bowl with a rubber spatula. Turn the mixer on medium, beat for 2 minutes.
Spoon dough into prepared bread pan. Let rise, uncovered, in a warm, draft-free place for 25 minutes, or until it has reached the top of the bread pan. (I preheat my oven to 100 degrees F, and turn it off, just so it is warm in there, and then I leave the oven light on for warmth.)
Place bread in preheated 350 degrees F oven, and bake for about 35 minutes, or until the internal temperature with an instant read thermometer is 200 degrees F.
Remove loaf from oven, and leave in the bread pan for 5 minutes. Remove from pan and cool on wire cooling racks (I like to cool loaf on its side, flipping ever 5 minutes).
When the loaf is completely cool, store in airtight bag. Can be left on the counter for 3 days, or frozen (wrap in additional plastic wrap if freezing).
If you miss good bread, I suggest you try these other gluten free bread recipes:
This recipe and images were updated in February 2018.
Disclosure:We are a participant in the Amazon Services LLC Associates Program, an affiliate advertising program designed to provide a means for us to earn fees by linking to Amazon.com and affiliated sites.