These gluten free Peppernut Buns, also called Papante or Spice Buns, are sweet yeast buns with warming spices, including black pepper. Topped with a simple icing and sprinkles, they are a traditional Mennonite Easter bun.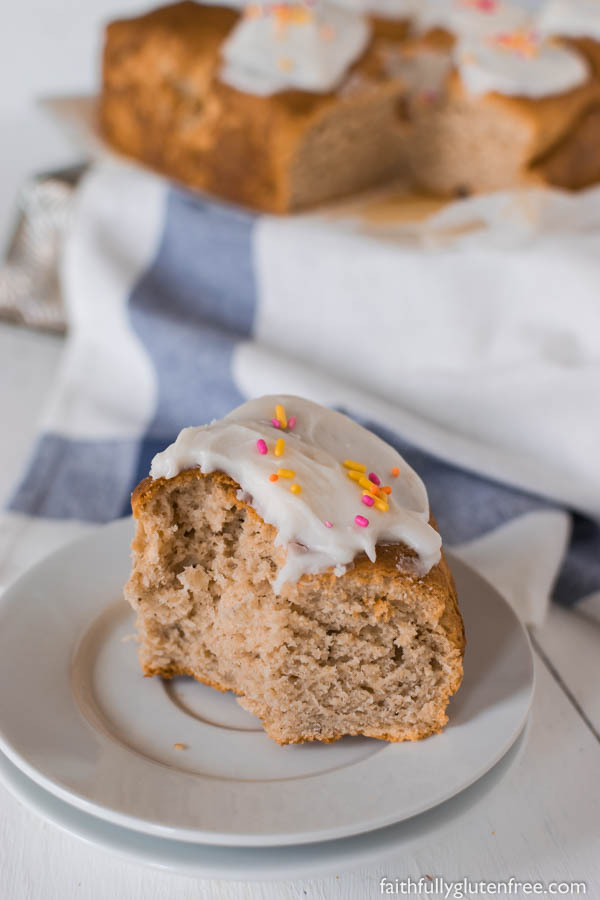 I'm not sure why, but it seems that a lot of the Mennonite traditional Easter foods are sweet yeast breads. Well, I guess Hot Cross Buns are not a Mennonite thing, but Paska and Peppernut Buns both are.
Every Easter, gluten free Paska is a must at our house. I grew up enjoying Paska every year, and to me, that bread says "Easter", so in my mind, they can only be baked for Easter.
Weird, because either Paska or Peppernut Buns would be great any time of year, but we only enjoy them for a short while. It's kind of like gluten free Portzelky (New Year's Cookies) – you only make them one time of the year – any other time just doesn't seem right.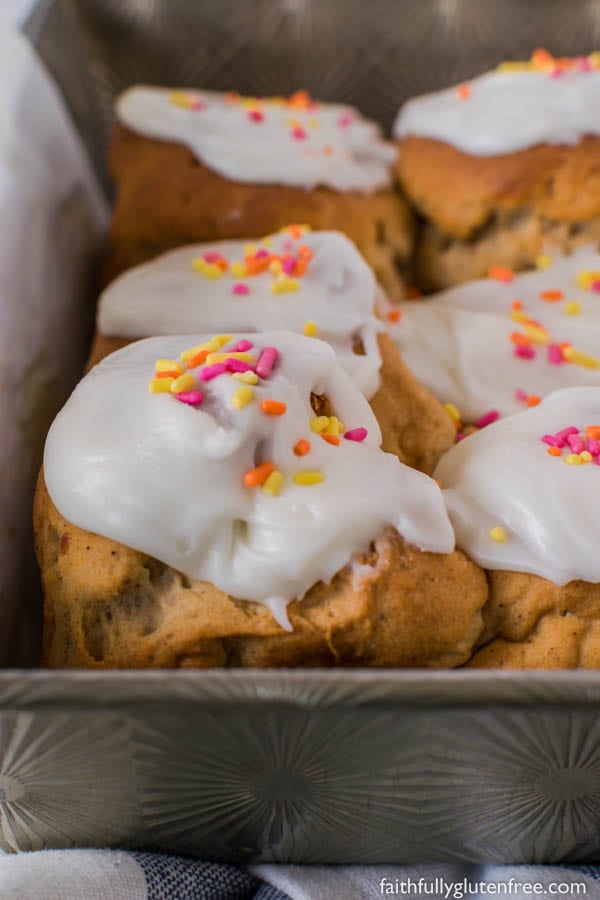 Although Peppernut Buns, or Spice Buns, were not something that was baked regularly at our house, I do remember enjoying it growing up. The soft, sweet yeast bread, that has the same spices as the hard Peppernut Cookies that we enjoy at Christmas time, were topped with icing and sprinkles before serving.
The recipe for these gluten free Peppernut Buns was adapted from my friend Betty's recipe that she shared on Mennonite Girls Can Cook. Where my family grew up enjoying the citrus flavoured Paska bread for Easter, Betty's grew up delighting in these spicy Peppernut Buns. It's all about traditions!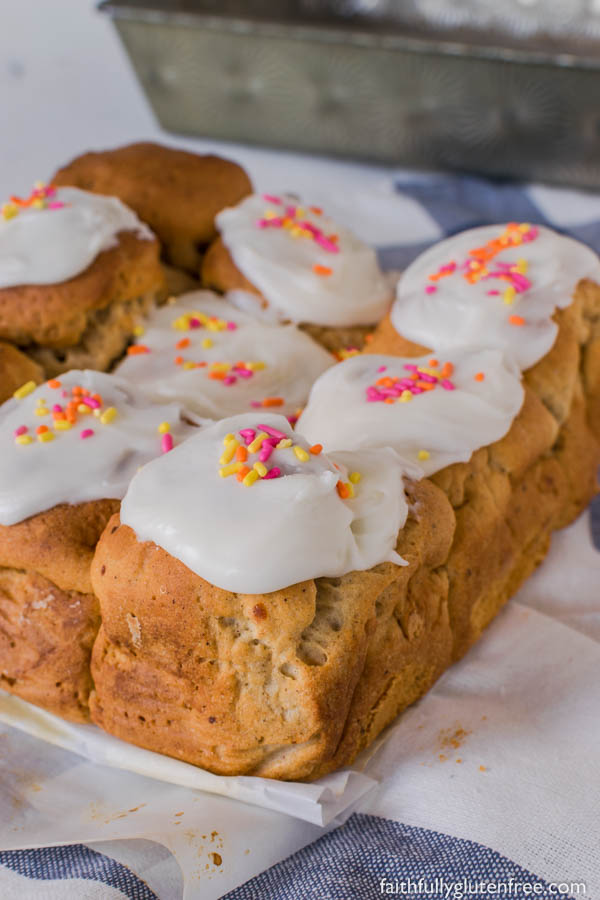 Although these gluten free Peppernut Buns won't look as nice and smooth as Grandma's did, I think you will really enjoy the flavour that they have.
I love re-creating gluten free versions of traditional foods, because it is so great to be able to enjoy a piece of your past that you think you lost forever when you found out that you need to eat gluten free. It's also really nice to be able to carry on traditions with your kids and grand kids, despite the gluten free diet.
If you enjoy these gluten free Peppernut Buns, you might enjoy these other Mennonite recipes as well: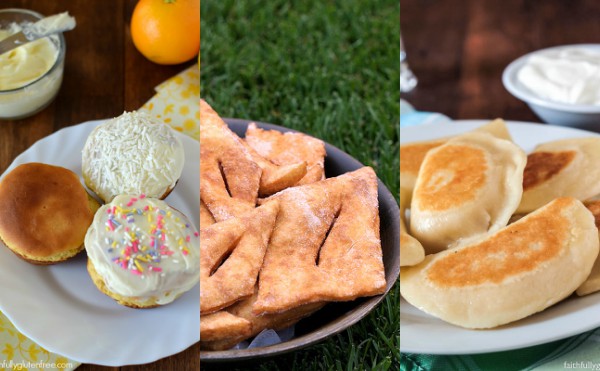 Gluten Free Peppernut Buns
These gluten free Peppernut Buns, also called Papante or Spice Buns, are sweet yeast buns with warming spices, including black pepper. Topped with a simple icing, and sprinkles, they are a traditional Mennonite Easter bun.
Ingredients
1 cup warm milk (about 100 degrees F)
3 tablespoons granulated sugar
2 teaspoons dry active or rapid rise yeast
1 cup brown rice flour
1/2 cup millet flour
1/2 cup potato starch
1/4 skim milk powder
1/4 cup tapioca starch
2 teaspoons xanthan gum
1 teaspoon ground cinnamon
1 teaspoon salt
3/4 teaspoon ground black pepper
1/4 teaspoon ground allspice (or anise)
1 teaspoon apple cider vinegar
1/4 cup golden syrup (or dark corn syrup, maple syrup will not work)
1/4 cup melted unsalted butter
2 large eggs, room temperature
Instructions
Line an 8x8-inch baking pan with parchment paper. Turn the oven on to 100 degrees, but turn it OFF once it is slightly warm in your oven. This will help your Peppernut Buns to rise nicely.
Warm the milk up in a microwave safe measuring cup. I heat mine in the microwave for about 45 seconds, but all microwaves are different. Stir the warmed milk before adding the sugar and the yeast. Stir again, and set aside while you get the dry ingredients ready.
In the bowl of a stand mixer, whisk together the rice flour, millet flour, potato starch, powdered milk, tapioca starch, xanthan gum, cinnamon, salt, black pepper, and allspice.
If the milk/yeast mixture is foamy, whisk in the cider vinegar, syrup, butter, and eggs. (If it's not quite foamy yet - give it a few more minutes. If it never gets foamy, discard and try again with new yeast.)
With the mixer running on low speed, pour the wet ingredients into the dry ingredients.
Increase the speed to medium, and beat for about 2 minutes, scraping down the sides of the bowl if necessary.
I use a large cookie scoop dipped in water to scoop the dough into 9 buns in the prepared pan. Use a wet finger to smooth the tops if necessary.
Place the pan in the warm (but OFF oven), and let the buns rise for 25-30 minutes, or until nearly doubled in size.
Remove the pan from the oven, and heat it to 350 degrees F.
Bake the buns in the oven for 25-30 minutes, or until the internal temperature of the buns (using an instant read thermometer) is 200 degrees F.
Remove the pan from the oven, let the buns sit for about 5 minutes before using the parchment paper to lift the buns out of the pan, and place them on a wire cooling rack.
Once cooled, frost with a simple icing using confectioners' sugar, a little butter, and a little milk (or make things easy, and use store-bought frosting). And don't forget the sprinkles!
Disclosure: We are a participant in the Amazon Services LLC Associates Program, an affiliate advertising program designed to provide a means for us to earn fees by linking to Amazon.com and affiliated sites.