Indulge in this gluten free Pumpkin Cheesecake, with it's velvety texture, warming spices, and nutty crust, everyone is sure to ask for another slice.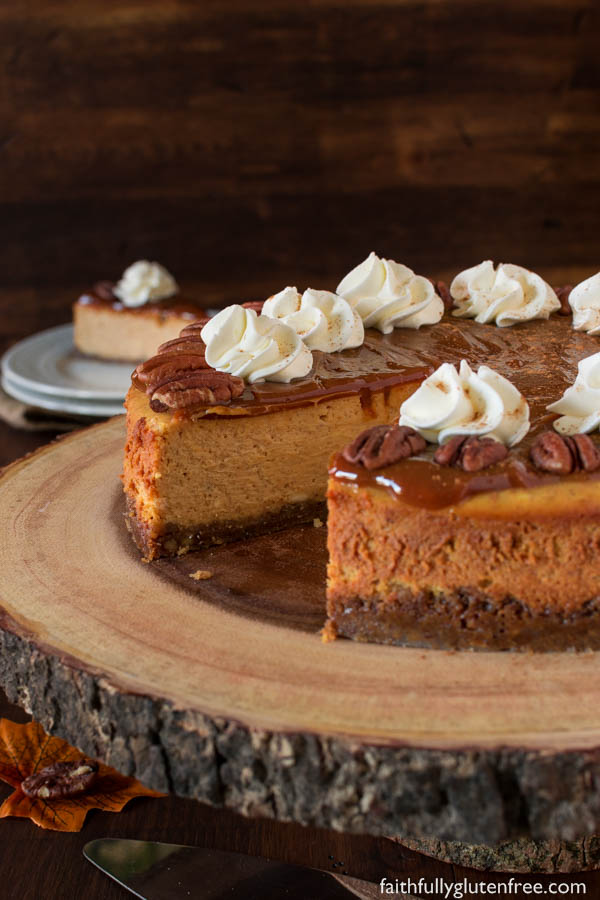 Look at that picture. It's OK, I'll give you a moment.
The pecans.
The cream cheese.
The taste of pumpkin, with it's warm, spicy accompaniment.
The cinnamon-y, nutty crust.
The Dulce de Leche. Oh, the Dulce de Leche. Mmm…
Ah…this gluten free Pumpkin Cheesecake is perfection on a plate.
I first shared this recipe here 8 years ago. I knew that it was a good recipe. I served it at my husband's birthday party, and it got rave reviews from everyone.
Then six years ago I entered this recipe into a national baking contest and won a trip for my Mom & I to fly to Toronto to attend Canada's Baking and Sweets Show.
It truly is a real winner.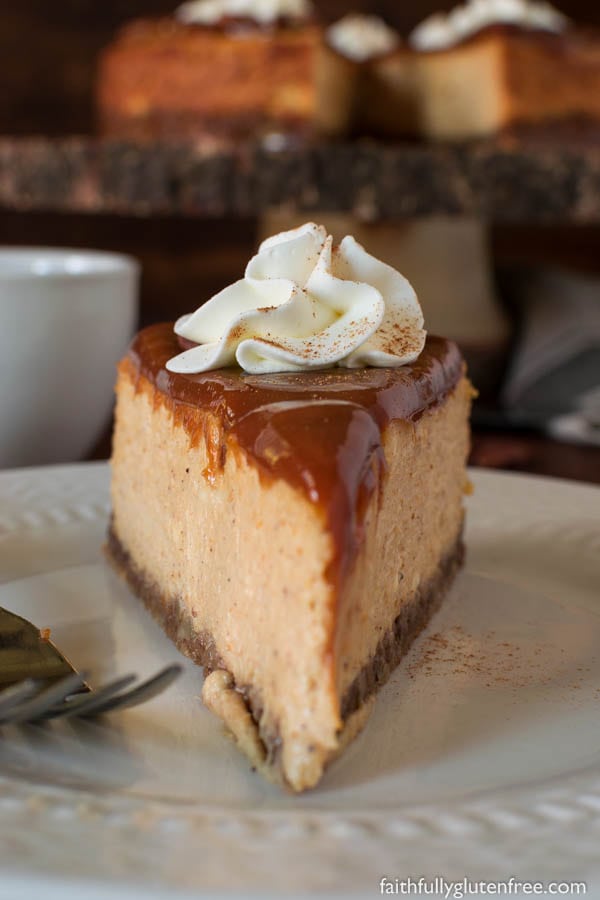 I hadn't made it often since, but with Thanksgiving coming up, I thought it would be the perfect indulgence. First bite – I was won over again. I had forgotten just how smooth it was, and how nicely balanced the flavours are.
Those pecans in the crust give it a great nutty flavour without being over-powering. And you see that Dulce de Leche on the top? It will save you ever time. If your cheesecake cracks while it is baking or cooling – no one will ever know. Smear on a layer of this sweet golden happiness, and everyone will think you are a flawless baker. Win – Win.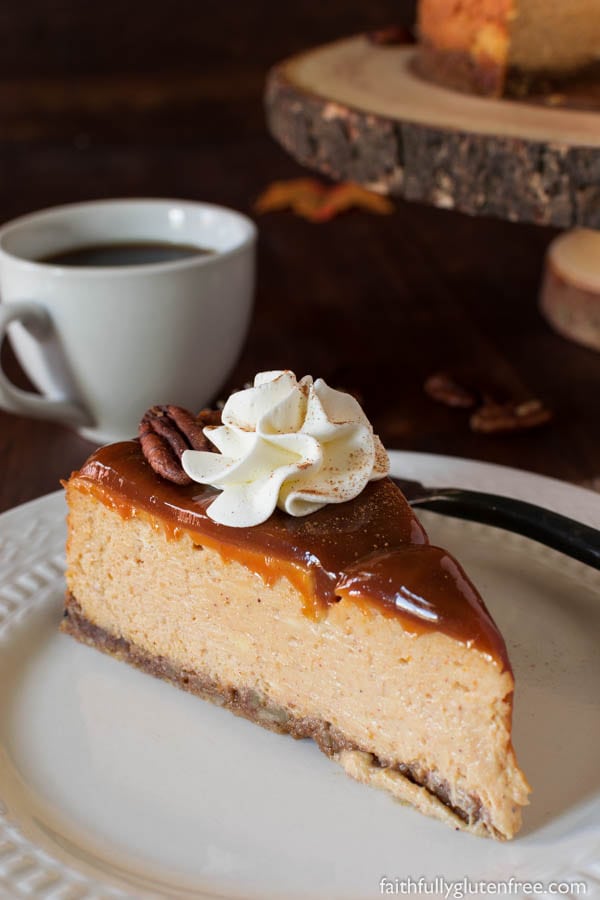 If this gluten free Pumpkin Cheesecake sings to you, you might also like these recipes:
Gluten Free Pumpkin Cheesecake recipe: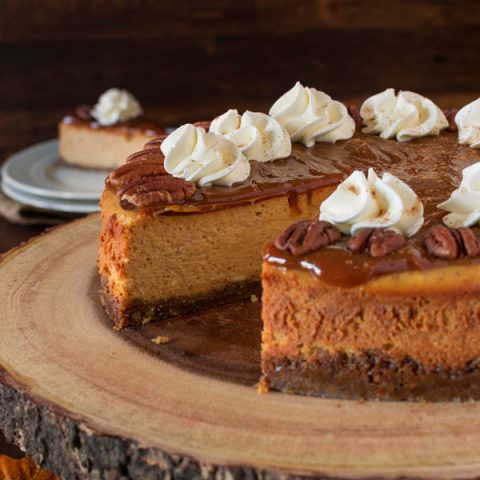 Gluten Free Pumpkin Cheesecake
Total Time:
1 hour
20 minutes
Indulge in this gluten free Pumpkin Cheesecake, with it's velvety texture, warming spices, and nutty crust, everyone is sure to ask for another slice.
Ingredients
3/4 cup gluten free graham wafer crumbs (see Note)
1/2 cup ground pecans
2 Tablespoons granulated sugar
2 Tablespoons brown sugar
1/4 cup unsalted butter, melted
3/4 cup canned pumpkin
3/4 cup granulated sugar
3 egg yolks
1 1/2 teaspoons ground cinnamon
1/2 teaspoon ground ginger
1/2 teaspoon ground nutmeg
1/4 teaspoon salt
3 (8 ounce) packages cream cheese
1/4 cup PLUS 2 Tablespoons granulated sugar
1 large egg
1 egg yolk
2 tablespoons heavy whipping cream
1 tablespoon cornstarch
1 teaspoon vanilla extract
Optional: whole pecans and a jar of Dulce de Leche to decorate the top of the cheesecake with. You could also use whipped cream, if you wish.
Instructions
Preheat oven to 350 degrees F.
Combine the graham wafer crumbs, ground pecans, 2 tablespoons granulated sugar, 2 tablespoons brown sugar, and the melted butter and mix well. Firmly press into one 9-inch springform pan.
Combine 3/4 cup granulated sugar, pumpkin puree, 3 egg yolks, spices and salt in a medium bowl. Mix well and set aside.
Beat the cream cheese with an electric mixer until light and fluffy; gradually add 1/4 cup plus 2 tablespoons granulated sugar and mix well. Add the whole egg, remaining egg yolk, and the whipping cream, beating well. Add cornstarch and vanilla extract, beat batter until smooth. Add pumpkin puree mixture and mix well. Pour batter into prepared pan. (Note: I placed my springform pan on a cookie sheet with sides, and I'm glad that I did, because I had some liquid leaking from the springform pan. Keep that in mind!).
Bake in preheated oven for 50-55 minutes. Do not overbake. Center may be soft but it will firm up when chilled. At this point, turn the oven off, and open the oven door, but allow cake to remain in oven for the next hour. This will help prevent the top from cracking, but if it does, don't worry, that's where the Dulce de Leche comes in handy.
Cover and refrigerate until ready to serve. I removed the springform pan and decorated the top with Dulce de Leche and whole pecans a few hours before serving, then placed in the fridge until we were ready to eat.
Notes
Adapted from AllRecipes.com
Instead of gluten free graham wafers for the crust, you can use gluten free gingersnap cookies or Cinnamon Chex.
Don't forget to
PIN THIS RECIPE
to your Pinterest dessert boards!
Images & recipe updated October 2018.