Eating gluten free Pumpkin Pancakes for breakfast on a cold autumn morning is nearly as good as having a slice of pumpkin pie for breakfast.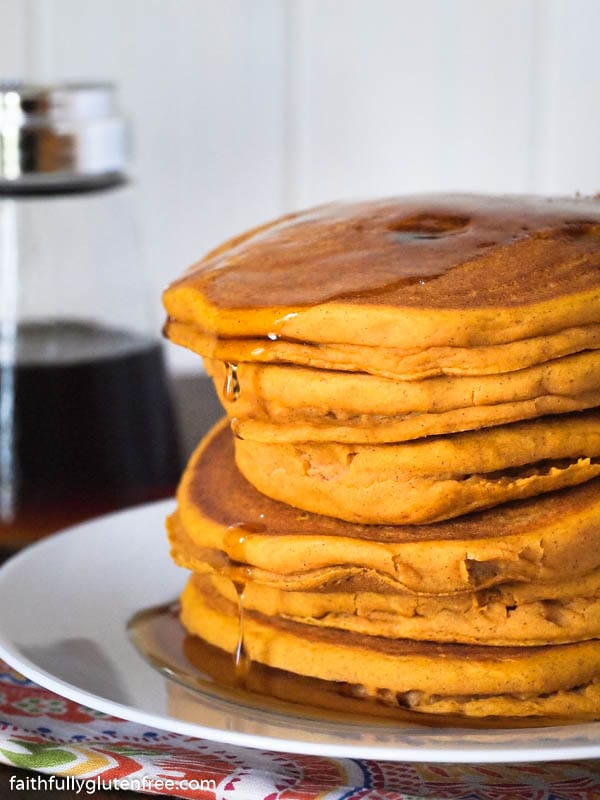 If you've been following me for a while, you already know that I go a little crazy with gluten free pumpkin recipes this time of year. You may also know that I love good gluten free pancakes.
We often eat pancakes for supper too, so it's not just for the weekends. If you add a side of fruit, some cheese, and maybe some turkey breakfast sausages, you have a complete meal.
I've been making these gluten free Pumpkin Pancakes for a few years already, but like all things, I have been tweaking to improve the recipe.
After a few changes, these gf Pumpkin Pancakes are just the way I like them now. Slightly crisp on the outside, soft on the inside, and filled with the wonderful spices that often accompany pumpkin.
Drizzle on some maple syrup, or fancy them up by serving them with some cinnamon whipped cream, and you have a satisfying meal, no matter the time of day.
Tips to make the best gluten free Pumpkin Pancakes:
Just like in baking, it is best to make sure your ingredients are at room temperature before you start. Remove your milk, eggs, pumpkin puree (if you are using fresh) about 30 minutes before you mix your batter together.
Be sure to preheat your frying pan or skillet before adding the batter. I find that if the pan is too cold when you put your batter on it, the pancakes are more likely to stick.
Lightly oil the pan before you begin cooking your pancakes. Since pumpkin pancakes are more moist than my fluffy gluten free buttermilk pancakes, a little extra oil may be needed to ensure they release from the pan easily.
If you want, you can use homemade pumpkin puree in this recipe. This time of year pumpkins are popping up everywhere, and it is so easy to make your own puree. It also taste so much better than canned pumpkin puree. If you are using homemade puree, you might want to reduce the milk by a few tablespoons to start with, since homemade puree isn't always as thick as store-bought puree.
More pumpkin pancake topping ideas besides maple syrup:
Easy Gluten Free Pumpkin Pancakes Recipe:
Gluten Free Pumpkin Pancakes
Eating gluten free Pumpkin Pancakes for breakfast on a cold autumn morning is nearly as good as having a slice of pumpkin pie for breakfast.
Ingredients
1 1/3 cup (215 g) brown rice flour
1/3 cup PLUS 1 tablespoon (70 g) potato starch
1/4 cup (30 g) tapioca starch
3 tablespoons (45 ml) brown sugar
2 teaspoons (10 ml) baking powder
1 teaspoon (5 ml) baking soda
1 teaspoon (5 ml) ground cinnamon
1/2 teaspoon (2.5 ml) ground allspice
1/2 teaspoon (2.5 ml) ground ginger
1/2 teaspoon (2.5 ml) salt
1/2 teaspoon (2.5 ml) xanthan gum
1 1/2 cups (375 ml) milk of choice
1 cup (250 ml) pumpkin puree (not pie filling)
1/4 cup (60 ml) unsalted butter, melted
1 large egg
2 tablespoons (30 ml) white vinegar
1/2 cup (125 ml) milk chocolate chips (optional)
Instructions
In a large bowl, whisk together the brown rice flour, potato starch, tapioca starch, brown sugar, baking powder, baking soda, allspice, cinnamon, ginger, salt, and xanthan gum.
In a separate bowl, combine milk, pumpkin puree, melted butter, egg, and vinegar. Add to the the dry ingredients, stirring just enough to combine. Stir in chocolate chips, if using.
Pour about 1/4 cup batter per pancake onto a lightly greased frying pan or griddle over medium-high heat. Flip pancakes over once bubbles start to form on the top of the pancake, about 3-4 minutes. Cook the second side until golden brown.
Serve immediately with a dab of butter and a drizzle of maple syrup.
Notes
The ground cinnamon, allspice, and ginger can be replaced with 2 teaspoons of Pumpkin Pie Spice.
Recommended Products
Disclosure: We are a participant in the Amazon Services LLC Associates Program, an affiliate advertising program designed to provide a means for us to earn fees by linking to Amazon.com and affiliated sites.
Don't forget to
PIN IT
to your gluten free Breakfast Board.
If you love pumpkin season as much as I do, be sure to check out my other recipes that feature pumpkin, like these gluten free Pumpkin Scones, gluten free Pumpkin Cream Cheese Muffins, and of course, this amazing (award winning) gluten free Pumpkin Cheesecake.