These easy Steak and Potato Kabobs only take minutes to grill up, and are perfect paired with other grilled vegetables.
When the warmer weather arrives, I like to spend as little time as possible getting dinner ready. I'd rather be working in the yard, playing with the kids, or sitting on the deck relaxing, than spending time in the kitchen. Sometimes that leads to pretty sparse dinners, but when you've been working in the yard, it's nice to have something that satisfies. That's where these easy Steak and Potato Kabobs come in. They take nearly no time to prepare, and what needs to be prepped can be done well in advance – you can even start marinading your meat the night before.
Using the Little Potato Company's Microwave Ready Creamer potatoes, I was able to incorporate seasoned potatoes on the kabobs without any real work. All I had to do was remove the cardboard sleeve from the package, remove the seasoning packet, and microwave for 5 minutes. I then added a small splash of olive oil and the supplied seasoning packet to the steamed potatoes, stirred them up until they were evenly coated, and placed them on the skewers. Since they don't need any further cooking, they will be soft and tender on the inside, with a slight crispy skin, when your kabobs are cooked to your liking.
I used the Garlic Parsley microwave ready kit, but I think that the Savory Herb would be just as good on these Steak and Potato Kabobs. I bet the Zesty Italian varietal would be perfect for chicken kabobs.
These microwave ready kits are great as-is for a quick side dish, but they are also a great shortcut in making great dishes. In addition to the microwave ready trays, Little Potato Company also has Barbecue Ready trays.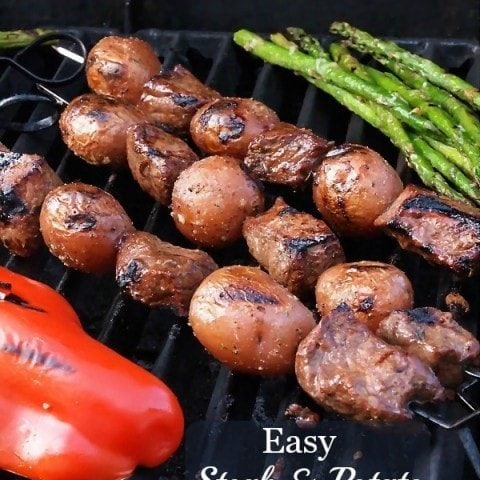 Easy Steak and Potato Kabobs
Total Time:
2 hours
25 minutes
These easy Steak and Potato Kabobs only take minutes to grill up, and are perfect paired with other grilled vegetables.
Ingredients
1/4 teaspoon (1.25 ml) dried rosemary
1/2 teaspoon (2.5 ml) dried parsley
1/2 teaspoon (2.5 ml) garlic powder
1/2 teaspoon (2.5 ml) ground pepper
1 teaspoon (5 ml) Dijon mustard
1 Tablespoon (15 ml) balsamic vinegar
1 Tablespoon (15 ml) gluten-free soy sauce
1 Tablespoon (15 ml) gluten-free Worcestershire sauce
2 Tablespoons (30 ml) olive oil
1 1/4 lbs (about 600 grams) marinating beef, cut into 1-inch (2.5 cm) cubes
1 tray Little Potato Company Garlic Parsley Microwave Ready potatoes
Optional, bell pepper, button mushrooms
Instructions
Place the rosemary, parsley, garlic powder, pepper, mustard, vinegar, soy sauce, Worcestershire sauce, and olive oil in a large resealable bag. Stir to combine. Add the steak cubes, seal, and refrigerate for at least 2 hours.
When you are ready to assemble your kabobs, simply prepare the potatoes as directed on the package (they only take 5 minutes to cook), and allow them to cool for a few minutes, until you can safely handle them.
Place the steak and potatoes on a skewer, alternating the steak cubes with the cooked potatoes. You can also add chunks of bell pepper or mushrooms if you wish.
Heat your grill to medium-high heat. Once it is hot, add the kabobs and cook for about 10 minutes, turning every few minutes, until the meat is done to your liking.
Serve immediately.
Disclosure: I received compensation in exchange for creating this recipe. As always, the opinions on this blog are my own.