The holidays are quickly approaching. To help you through your 1st, 5th, or 20th gluten free Christmas, I've compiled a list of 10 Gluten Free Recipes that you need to Make this Holiday Season.
This will be my 12th gluten free Christmas, so I'm somewhat familiar with this already. I remember feeling absolutely lost that first Christmas though. Slowly, but surely, I have been able to re-create gluten free versions of all of my old gluten-filled favorites.
If this is your first gluten free holiday season, don't fret. You can keep things super simple by sticking to Simple Gluten Free Treats that Anyone Can Make. Naturally gluten free treats can be a life-saver (and a sanity saver) this time of year.
If you are feeling a little more adventurous in the kitchen, and are ready to take back the holidays, these recipes are for you.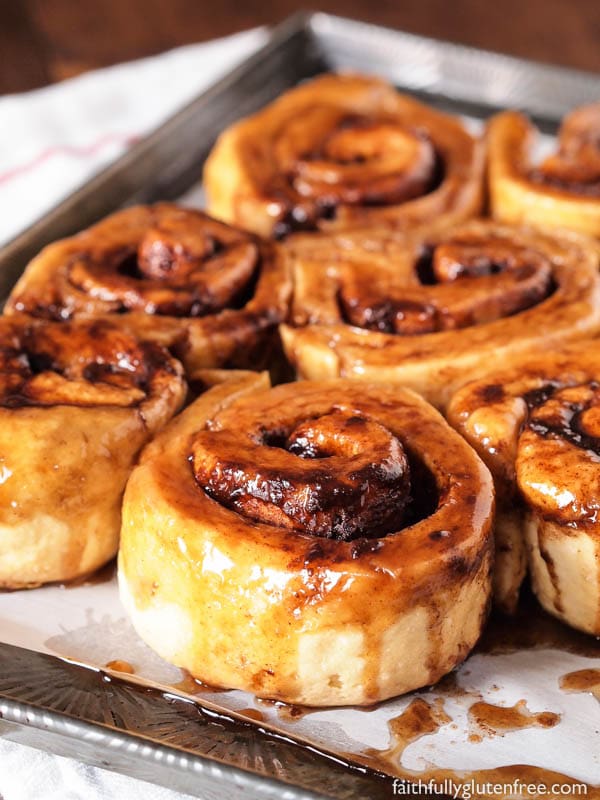 Cinnamon Rolls have always been a special part of many people's Christmas traditions, and you don't have to let gluten end those traditions. Bake up a pan of these gluten free Cinnamon Buns to enjoy on Christmas morning. I even include tips on how to make them ahead of time, and bake them fresh in the morning.
This gluten free Pumpkin Roll Cake is so easy to make, but looks really impressive. A soft, spicy cake rolled around the perfect cream cheese filling, this dessert is perfect for entertaining, since it can be made ahead of time.
Time to get out your cookie cutters and get creative with this gluten free Rolled Sugar Cookie recipe. A world of colorful Christmas trees, stars, bells, and snowmen cookies await you. Includes tips on making the best gluten free cut-out sugar cookies.
Gather the family and reclaim the tradition of building an amazing gingerbread creation with this easy gluten free Gingerbread House recipe. Includes tons of tips on decorating, candies to use, and even a FREE printable template for house.
Warm up and unwind after an afternoon of shopping, decorating, or sledding with this Spiced Apple Cider made from apple juice. Throw a few simple ingredients into your slow cooker, and be met with the amazing aroma of apple, cinnamon and cloves.
This gluten free Sticky Monkey Bread is a Christmas morning tradition at our house. Sweet yeast bread, coated in a cinnamon sugar mixture, dropping with caramel sauce? Sign me up! Includes tips to prepare it in advance, so you only need to bake it on Christmas morning.
Whatever cutters you use (people, ninjas, reindeer), baking gluten free Gingerbread Cookies is such a fun tradition to carry on. These soft gingerbread men smell so great when they are baking too.
If you are looking for a dessert that will really wow the crowd (gluten eaters included), this gluten free Pumpkin Cheesecake will not disappoint. It takes a little time to prepare, but the end result is so worth it.
It's a good thing that these easy Salted Butterscotch Truffles hide out in the fridge – otherwise they would never last very long. I like to put a few out on my cookie trays, they are so pretty mixed in with the other cookies.
These are another classic holiday cookie, made gluten free. These gluten free Chocolate Crinkle Cookies, with their fudgy center and powdery exterior, will remind you of days gone by.
Because it was so hard to pick only 10 gluten free recipes that you need to make this holiday season, I decided to add one bonus recipe. I know many of you have Christmas traditions that are not complete without perogies (pierogi).
My Grandma made the best potato, onion and cheese perogies. I am so glad that I'm able to continue that tradition with my kids thanks to these gluten free Perogies. They taste just as good as Grandma's did.